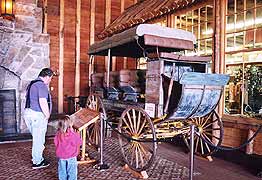 This vehicle underwent extensive conservation treatment in 1997-1998, which included the replacement of missing parts. It was on exhibit for several years at the Old Faithful Inn, but due to renovation work in that building, it is now displayed at the Old Faithful Lodge, which is located on a former Shaw and Powell camp site.
Photos:
(YELL 90058-2) Shaw & Powell Camping Company group at a tent camp in
Yellowstone
. The Studebaker mountain stage at left is virtually identical to the example in the park's museum collection. (
Montana
Historical Society)
(YELL 90058-1) Studebaker mountain stage showing some preservation work already completed. Additional work was also performed such as fabricating and installing missing seats.
(YELL 90058-3) Studebaker mountain stage used by the Shaw and Powell Camping Company on exhibit at the Old Faithful Lodge.