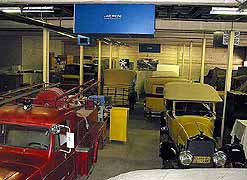 The majority of the vehicles were received from TW Recreational Services, Inc. (successor of the Yellowstone Park Company) in 1991. Others have been added to the collection (such as the Willys fire truck) when they become obsolete or surplus to NPS needs. Volunteers performed initial cleaning of the vehicles, and the Yellowstone Association and Yellowstone Park Foundation have also provided funding for preservation and conservation efforts. More recently, federal funding has become available to allow for extensive preventative conservation treatment (cleaning and stabilizing the vehicles) by NPS staff. Some of the vehicles have been loaned to other museums and institutions for special exhibits, and the entire collection was the focus of a segment in "Hidden Yellowstone", a film aired by the Discovery Channel.
Photos:
(YELL 106386-1) Museum Technician Kirk Dietz performing preventative conservation treatment on one of the White Motor Company service trucks. On motorized vehicles, this process includes extensive cleaning, degreasing, lubricating and protecting the entire vehicle.
(Bldg 2009) This image depicts a portion of the historic vehicles currently in storage. Some of the vehicles have had their dust covers temporarily removed to illustrate the different models represented in the collection.