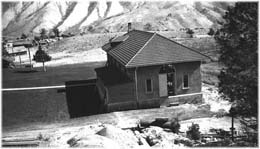 The first buildings of
Fort
Yellowstone
were finished by late 1891. As more troops were needed, more buildings were constructed: officers' quarters, guard house, headquarters, barracks for enlisted men, stables for their horses and non-commissioned officers' quarters. In 1909, Scottish masons began constructing sandstone buildings here - among them the
Albright
Visitor
Center
(then the Bachelor Officers' Quarters) and the administration building (then a two-troop barracks for 200 men). The Chapel, the final building constructed during the Army's tenure, was also constructed of native sandstone. The stone from these buildings was obtained from a local quarry between the
Gardner
River
and the Mammoth Campground.
In 1910, at the height of the Army's presence in
Yellowstone
, there were 324 soldiers stationed here - plus some families and numerous civilian employees. These troops staffed not only
Fort
Yellowstone
, but were stationed throughout the park in small details at various outposts.