Willys/Howe Fire Trucks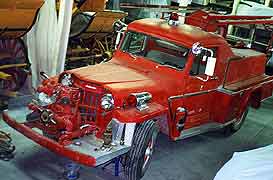 1960 Willys Model
6-226 Four Wheel Drive
Howe Commando Fire Truck. Museum Catalog Number YELL 131735.
This vehicle features a "Jeep" pick-up chassis and cab manufactured by Willys Motors, Inc., with fire equipment added by Howe Fire Apparatus Company. Equipment includes a front mounted pump (500 gal. per minute Waterous Model CF-3), 150 gal. capacity water tank, hoses, and fire extinguisher. Red lights are mounted on top of the cab and left front fender.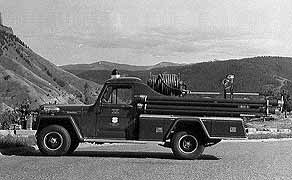 The body was modified at some point to include the addition of breathing apparatus on one side, railings mounted to the top of the cab and bed, as well as other noticeable changes. At one time, there were five trucks of this style in the park. This vehicle was last stationed at the Tower Junction area, and participated in fire suppression efforts at
Grant
Village
during the forest fires of 1988. Removed from service in 1996, the vehicle's last use prior to inclusion in the museum collection was in the
Livingston
,
Montana
"Round-Up" parade in 1997.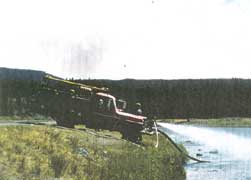 Photos:
YELL 131735-1 Willys/Howe fire truck in the museum collection.
YELL 131735-2 One of the Yellowstone Willys/Howe fire trucks similar to the vehicle in the museum collection showing how it might have appeared prior to modification.
YELL 131735-3 Another view of a Willys/Howe "Pumper" taken during the 1988 fires in
Yellowstone
. Location is the
Madison River
Canyon
where the vehicle and crew were involved in suppressing the North Fork Fire.