"Drop Belly" Wagons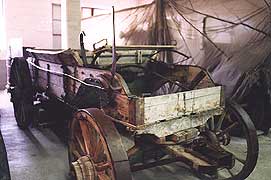 "Drop Belly" Wagon. Museum Catalog Number YELL 106379. Also referred to as a "Box Dropping" type utility wagon, the historic vehicle collection includes two vehicles of this style which incorporate a mechanism under the driver's seat for raising and dropping the two-piece hinged bottom of the box. The carriages of these wagons are extremely heavy with 4.5-inch wide iron wheels. Both wagons have remnants of green paint on the wooden bodies. One of the vehicles has a hand-made aluminum plate that reads "N.P.S. 43 68877". This type of vehicle was used for road construction and has also been documented in the photograph archives performing campground custodial duties.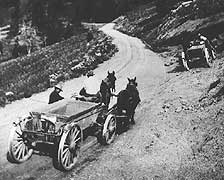 Photos:
(YELL 106379) One of two "Box Dropping" utility wagons in the park's collection.
(YELL 21158) Early road construction work in
Yellowstone
National Park
. The vehicles pictured are "Drop Belly" wagons similar to those in the museum collection.