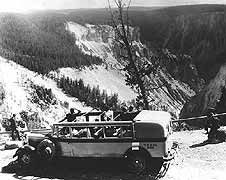 It also features four brown leather-covered bench seats, an interior storage compartment, and rear baggage compartment. The running boards are covered with tan linoleum, and the tan canvas roof (a modern reproduction) is designed to be rolled back to allow visitors to stand when the bus is parked for better views of scenery and wildlife. This bus was sold at one point to a dealer in
Billings , Montana
, but was later bought back by the concessionaire, apparently for historical interest.
Photos:
(YELL 90072) 1931 Model 614 fourteen-passenger National Park Bus in the park's museum collection.
(YELL 96222) Tourists at the Grand Canyon of the Yellowstone near Artist Point in YPT Co. bus # 352, the same 1931 National Park Bus in the museum collection. Note the canvas top rolled back to allow the visitors an unobstructed view.