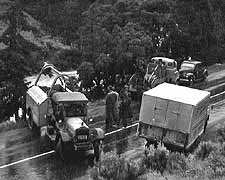 Photo Captions:
(YELL 106383) 1927 Model 51 service truck with PTO winch in the park's museum collection.
(YELL 27053-1) Accident scene in
Gardner
Canyon
, 1952. The vehicle at left is Yellowstone Park Transportation Company Service Truck #937, and was used to help recover a car that had plunged into the river.