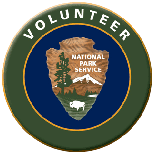 Yellowstone National Park is served by hundreds of volunteers throughout the year. You can help Yellowstone in a variety of ways from enhancing visitor services to sharing your specialized expertise to help protect and preserve park resources.
In order to find out about current volunteer opportunities in Yellowstone National Park, log on to www.volunteer.gov/gov.
Once you have completed the on-line application process from the above website, your completed application will be reviewed by a hiring official and compared with other applications for the same volunteer job.
A supervisor will contact you directly if you are being considered for a volunteer position.
If selected, more information about the job appointment, uniform, etc. will be sent to you.
You may also want to consider applying to the Student Conservation Association (SCA). They offer a Resource Assistant Program that places volunteers in land management agencies, including the National Park Service. More information may be obtained from their website: www.thesca.org.
If you are interested in finding out about volunteer opportunities in other National Parks and/or other government agencies, visit www.volunteer.gov/gov.
For additional information about volunteer opportunities in Yellowstone National Park, please email our Volunteer Office at: Volunteer Coordinator.
Thank you for your interest in Yellowstone National Park!