Current Conditions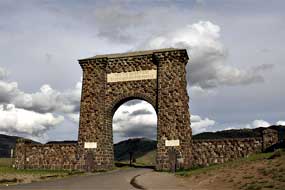 NPS/Peaco
Yellowstone National Park is Open
We have begun closing our roads to oversnow travel in preparation for plowing the roads for the spring opening. Find more information on road opening and closing dates here.
You can begin planning your summer trip by visiting our Plan Your Visit pages where you can find information on dates, hours, fees, lodging, camping and much more.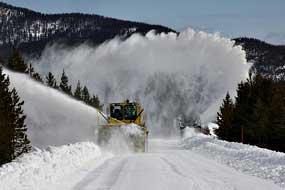 NPS/Restivo
Park Roads
The north entrance to Mammoth Hot Springs and the road from Mammoth to Cooke City remain open year-round to automobile traffic. Roads to Old Faithful, Canyon and Lake began closing to over-snow vehicles Mar. 1. For information on roads outside Yellowstone, please call 511 from your cell phone. See our
Park Roads
page for more information or call our 24-hour road information line at 307-344-2117 for updates.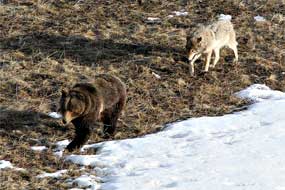 NPS
Wildlife
Bears have started emerging from hibernation. Hikers, skiers and snowshoers are advised to stay in groups of three of more, make noise on the trail and carry bear spray.
Wildlife in Yellowstone adapt to survive winter in one of the harshest climates in the country. This challenging season requires an incredible amount of energy. Please remember to stay at least 25 yards away from elk and bison and at least 100 yards away from bears and wolves. Please see our wildlife viewing page.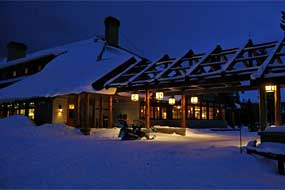 NPS
Visitor Services
Mammoth Hot Springs lodging and restaurant closed March 3. The Mammoth General Store, medical clinic, campground, post office, and visitor center are open all year (the store will be closed for repairs Mar. 17-23). Services at Old Faithful close on March 15. The 24-hour gasoline pumps at Mammoth Hot Springs and Tower Junction are open year round. Communities around Yellowstone are open all year.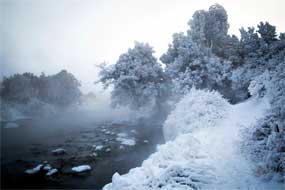 Rivers and Streams
The Boiling River is open. The hours are 5 am to 9 pm. Stay on the designated trails. Ground in hydrothermal areas is fragile and thin, and there is scalding water just below. Use caution and stay safe.
Warm weather has caused streams and rivers to rise. Be cautious and safe around the rapidly rising, cold water.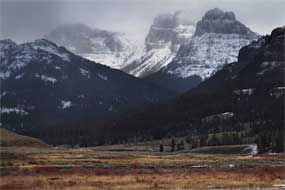 NPS
Weather
During winter and spring, it is vital to be prepared: it can be cold and snowy with hazardous driving conditions. Before traveling, check Yellowstone weather forecasts and advisories at Yellowstone's weather page or the National Weather Service.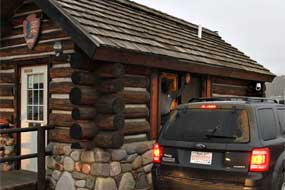 NPS
Latest News
If you're looking for more information about what is happening in Yellowstone, visit our News Releases page for the most up-to-date news. You can also stay informed and connected to Yellowstone through social media. We're on Facebook, Twitter, YouTube, and Flickr.

Did You Know?

There are more people hurt by bison than by bears each year in Yellowstone. Park regulations state that visitors must stay at least 25 yards away from bison or elk and 100 yards away from bears.