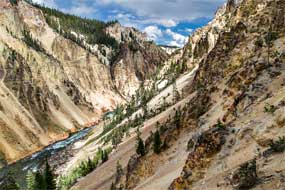 NPS/Herbert
Yellowstone is Open
All entrances are open. The park is open 24 hours a day. Please check our road status page for updated road opening and closing information.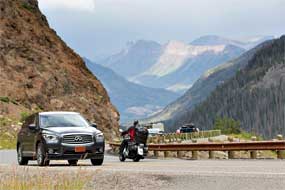 NPS Photo
Park Roads
Please allow plenty of time in your travel plans for road construction in the park. Check Road Construction and Delays for more information. Sometimes we have a temporary closure of a road or drive. Please check our road page for the current status of park roads.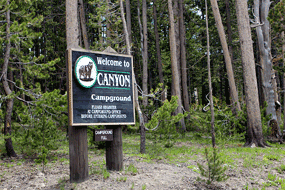 NPS/Renkin
Campgrounds
Many campgrounds are closed for the season. Please check our campground page to find out which campgrounds are open for your visit.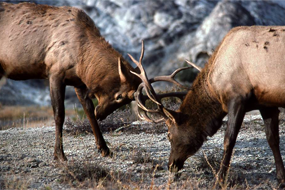 NPS
Wildlife
The fall rut can make bull elk aggressive toward people and vehicles. Elk damage vehicles every year and occasionally charge visitors. Regulations require staying a minimum of 25 yards away from elk, moose, deer, bison, bighorn sheep, and coyotes.
Also, remember, bears inhabit all of Yellowstone. Hikers should be prepared to encounter a bear at any time. While hiking, it is not unusual to see a bear or encounter a bear at close range.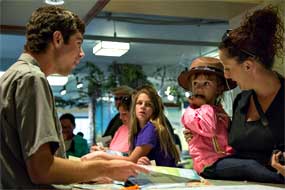 NPS
Visitor Services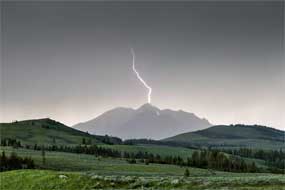 NPS/Herbert
Weather
In the fall, come prepared for a wide range of conditions. Temperatures drop rapidly with shorter days, often falling below freezing overnight. At this time of year, it's a good idea to pack plenty of layers, including insulating items, and both sun and rain protection. Before traveling, check Yellowstone weather forecasts and advisories at Yellowstone's weather page or the National Weather Service.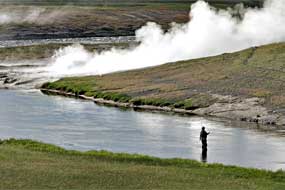 NPS/Herbert
Rivers and Streams
The Boiling and Firehole Rivers are open for swimming. Remember that rivers and streams in Yellowstone have swiftly flowing currents and always use extra caution around any water.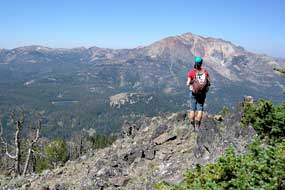 NPS/Renkin
Trails
In the fall, grizzly bears and black bears usually move to higher elevations to feed on whitebark pine seeds, but they are often encountered along roads or hiking trails throughout the park. When hiking or backpacking: travel in groups of three or more, make noise, and be alert for bears.
Other updates: the back northwest corner of Mud Volcano is closed for the season. There is NO LOOP TRAIL past Grizzly Fumarole. Travel to Churning Caldron and Sizzling Basin is discouraged.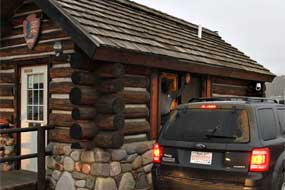 NPS
Latest News
If you're looking for more information about what is happening in Yellowstone, visit our News Releases page for the most up-to-date news. You can also stay informed and connected to Yellowstone through social media. We're on Facebook, Twitter, YouTube, and Flickr.