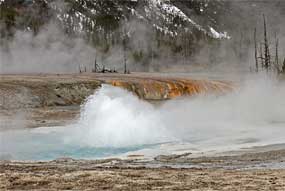 NPS/Peaco
Yellowstone National Park is Open
All entrances are open! The park is open 24 hours a day.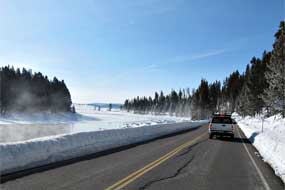 NPS
Park Roads
Please allow plenty of time in your travel plans for road construction in the park. Check road construction and delays for more information. Travelling to Old Faithful from the South Entrance? You'll need to take the Grand Loop Road through Fishing Bridge Junction, Canyon Junction, Norris Junction and on to Old Faithful until June 11th!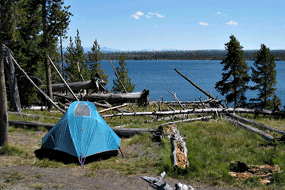 NPS/Renkin
Campgrounds
Fishing Bridge (hard-sided units only), Mammoth Hot Springs, Madison, and Norris campgrounds are open. For more information and campground opening dates, visit our campground page.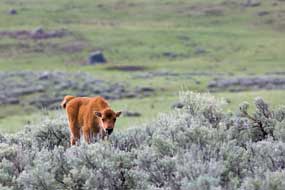 NPS/Herbert
Wildlife
It will not be hard to see bison calves on the Northern Range. The first part of May is prime time for calves to be born as green up begins.
Bears are out. If you plan to hike, ski or snowshoe in the park, stay in groups of three of more, make noise, and carry bear spray.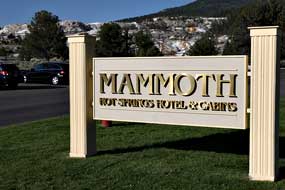 NPS
Visitor Services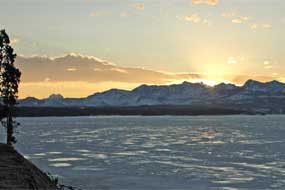 NPS/Renkin
Weather
Spring in Yellowstone is very unpredictable and often brings cold temperatures, high winds and falling snow. Weather can change quickly in Yellowstone. Be prepared for changing weather conditions. Before traveling, check Yellowstone weather forecasts and advisories at Yellowstone's weather page or the National Weather Service.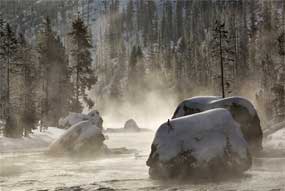 NPS/Herbert
Rivers and Streams
The Boiling River is closed.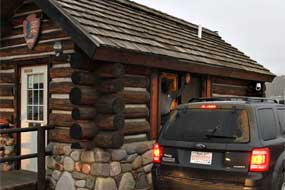 NPS
Latest News
If you're looking for more information about what is happening in Yellowstone, visit our News Releases page for the most up-to-date news. You can also stay informed and connected to Yellowstone through social media. We're on Facebook, Twitter, YouTube, and Flickr.