Current Conditions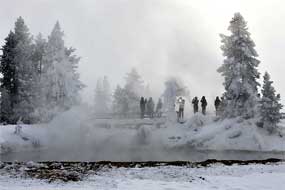 NPS
Yellowstone National Park is Always Open
The North Entrance and the road between the North Entrance and the Northeast Entrance is always open. Other roads in the park closed November 3 to prepare for our winter season. Learn more about visiting the park in the winter season.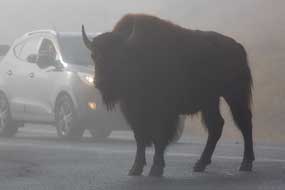 NPS/Herbert
Park Roads
Beartooth and Dunraven Passes are closed for the season. The
road between the North Entrance and the Northeast entrance
is the only road that remains open in the park. For information on roads outside Yellowstone, please call 511 from your cell phone.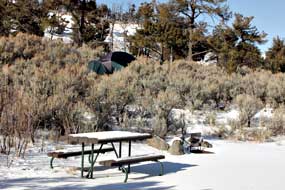 NPS/Renkin
Campgrounds
Mammoth Hot Springs campground is the only campground that remains open year round in the park. For more information on campgrounds in Yellowstone, visit our campground page.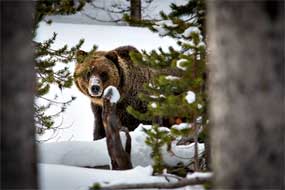 NPS/Herbert
Wildlife
As you enjoy trails, be bear aware. Bears may still be active in winter. You are safer hiking, skiing, and snowshoeing with groups of three or more. In areas of low visibility, make noise to avoid surprise encounters. Do not run from a bear under any circumstance. Carry bear spray and know how to use it safely.Be bear aware and learn more about visiting in bear country. Remember to keep a safe distance when viewing wildlife.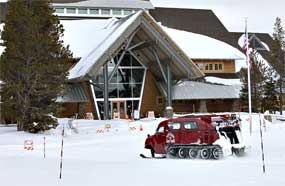 NPS
Visitor Services
Most visitor services have closed for the season. At Mammoth Hot Springs, the Yellowstone General Store, Post Office, medical clinic, campground, and visitor center remain open all year. Pay-at-the pump fuel is available 24 hours a day all year at all park service stations.
Communities near Yellowstone
are open year-round.
Winter services
in select areas around the park will be opening mid-December.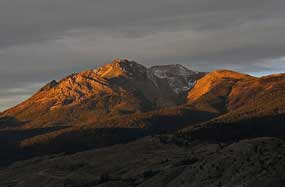 NPS/Peaco
Weather
Weather can change quickly in Yellowstone. Be prepared for changing weather conditions. Temporary travel restrictions or closures can occur at any time without notice. Mud and snow tires or tire chains may be required. Before traveling, check Yellowstone weather forecasts and advisories at Yellowstone's weather page or the National Weather Service.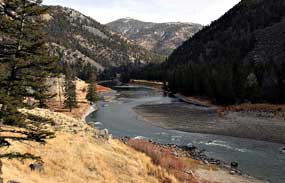 Rivers and Streams
The Boiling River is open.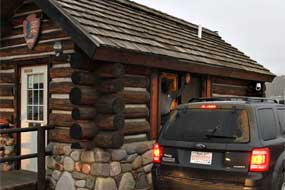 NPS
Latest News
If you're looking for more information about what is happening in Yellowstone, visit our News Releases page for the most up-to-date news. You can also stay informed and connected to Yellowstone through social media. We're on Facebook, Twitter, YouTube, and Flickr.