Autumn in the Library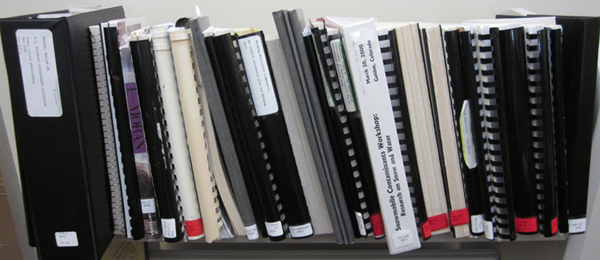 Getting new books is incredibly exciting in a library, but sometimes upgrading the books already in our collection can be just as exciting. Every fall, the library sends boxes of books to have them bound. What books are we sending? Some are new theses that haven't yet gotten hardcovers. Many are books that are already part of the collection but might be falling apart. Serials and journals are often bound into sets so that volumes can more easily be kept in order.
The vast majority of the books being sent this year are spiral bound items. Spiral binding is a nice, fast and inexpensive way to make sure that an entire book stays together. However, when an item gets put on library shelves, too many spirals can make it hard to find a particular item. They also create a messy bookshelf which can cause books to slide behind each other making patrons think that books are lost. Spirals are also detrimental to the items in the long run. Too much use causes pages to break where there the holes of the spiral are close to the edge of the page. Spiral-bound books don't have the same stability as a hardcover meaning that, if books aren't shelved carefully, they will often slide on a shelf creating a permanent bend in the pages. When the books return from the bindery, however, they will sit squarely on the shelf and stand up to many years' more use.
Post A Comment