Weather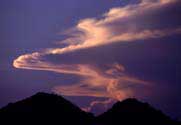 NPS photo by Dallas Larsen
Be prepared for variable and extreme weather conditions. Expect windy afternoons. Summer daytime temperatures can exceed 100 degrees. Short afternoon thunderstorms are common July through September. Autumn and spring days are warm and mild while winter days are cool with occasional snow & freezing temperatures. Best advice - dress in layers, because the weather can change quickly at any time of year.
Check the
current weather forecast
.


Did You Know?

The large pueblos preserved at Wupatki National Monument were constructed in the years following the eruption of nearby Sunset Crater, sometime between 1040 and 1100. Volcanic ash, deposited in thin layers, retained moisture and improved farming for an increased population at Wupatki.