Pets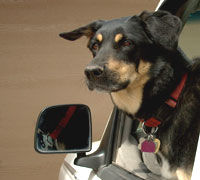 Photo by Carol Kruse
Pets are NOT ALLOWED on any trails in the monument or in buildings.

Pets are allowed in the parking lot only. Pets must be kept on a leash at all times. Please clean up after your pet.

NOTE: Summer heat is intense; pets left in vehicles - even for a short time - can suffer heat stroke and die.


Did You Know?

The sites at Wupatki were first described by Lorenzo Sitgreaves during his expedition in 1851. Camping near Wupatki Pueblo, he recorded that the sites must have been the remains of a large town covering 8 or 9 miles, and that the pottery was thickly strewn over the ground.