Plan Your Visit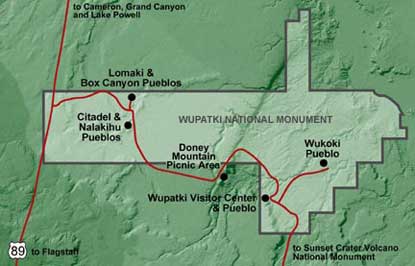 It will take about 2 hours to see five prehistoric pueblos. If you have less time, allow at least 30 minutes to visit the largest - Wupatki Pueblo - located behind the Visitor Center.
Wupatki Pueblo Trail, located at the Visitor Center, open from 9-5, is a self-guided tour of the largest pueblo in the park. Don't miss the blowhole, a fascinating geologic feature. The trail is less than .5 mile (.8km) round trip. Wupatki Pueblo is closed to public use when the Visitor Center is closed. This means visitors are prohibited from walking around the visitor center to access the Pueblo when the Visitor Center is closed and staff are not present. Exceptions include ranger-led activities, official functions or by special use permit.
Lomaki Pueblo Trail is an easy .5 mile (.8km) walk to several pueblos.
Wukoki, Citadel, and Nalakihu Pueblos are reached by short .2 mile (.4 km) trails.
Doney Mountain Trail ascends .5 mile (.8 km) from the picnic area to the top of the cinder cone for spectacular views of the surrounding area.
The backcountry of Wupatki is closed to hiking to protect fragile archeological sites. Please stay on designated trails.
Pets must be kept on a leash at all times. They are not allowed in buildings or on park trails.


Did You Know?

The San Francisco Peaks, backdrop for Flagstaff and much of northern Arizona, were named in 1629 by Franciscan missionaries in honor of St. Francis of Assisi. This was more than 200 years before what was then a small town in California acquired a similar name.