Plan Your Visit
If you have more than 2 hours - Drive the one hour scenic loop road that winds through Sunset Crater Volcano and Wupatki National Monuments, and visit all six prehistoric pueblos at Wupatki.

If you have less than 2 hours - Drive the one hour scenic loop road, and then allow at least 30 minutes to visit the largest site - Wupatki Pueblo - located behind the visitor center.
---
The Pueblos

There are six prehistoric pueblos (or villages) at Wupatki National Monument that are open to the public year round.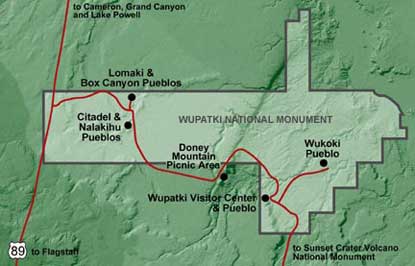 ---
Wupatki Trails
All trails in the monument are under one mile. Longer hikes can be found on nearby Forest Service land.


Wupatki Pueblo Trail, located at the Visitor Center, open from sunrise to sunset, is a self-guided tour of the largest pueblo in the park. Don't miss the blowhole, a fascinating geologic feature. The trail is less than .5 mile (.8km) round trip.
Lomaki Pueblo Trail is an easy .5 mile (.8km) walk to several pueblos.
Wukoki, Citadel, and Nalakihu Pueblos are reached by short .2 mile (.4 km) trails.
Doney Mountain Trail ascends .5 mile (.8 km) from the picnic area to the top of the cinder cone for spectacular views of the surrounding area.
The backcountry of Wupatki is closed to hiking to protect fragile archeological sites. Please stay on designated trails.
Pets must be kept on a leash at all times. They are not allowed in buildings or on park trails.