Crack-in-Rock Hike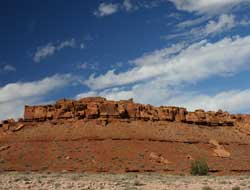 NPS photo by Al Remley
For a special ranger-guided backpacking experience, consider the Crack-in-the-Rock hike, offered on weekends in April and October. This trip explores fantastic rock art and pueblo architecture in an area not normally open to the public.
This is a strenuous 16-mile cross country overnight trip, carrying a 30-40 pound pack. Each hike is limited to 13 people; minimum age is 10. Cost is $50.00 per person, and participants are selected through a lottery system.
Please call for more information: 928-679-2365
Did You Know?

In the 1100s, Wupatki residents harvested rainwater to supplement springs and seeps that dot the arid landscape. Today, drinking water comes from wells drilled 900 feet deep.