Parks Participating in the TRT Program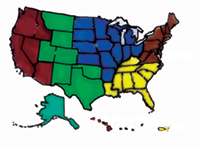 The TRT program now has a new national location to post ALL TRT job announcements. The redirect link is here.
Did You Know?

The large pueblos preserved at Wupatki National Monument were constructed in the years following the eruption of nearby Sunset Crater, sometime between 1040 and 1100. Volcanic ash, deposited in thin layers, retained moisture and improved farming for an increased population at Wupatki.