Parks Participating in the TRT Program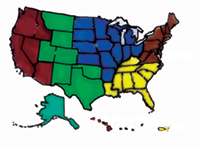 The TRT program now has a new national location to post ALL TRT job announcements. The redirect link is here.
Did You Know?

The sites at Wupatki were first described by Lorenzo Sitgreaves during his expedition in 1851. Camping near Wupatki Pueblo, he recorded that the sites must have been the remains of a large town covering 8 or 9 miles, and that the pottery was thickly strewn over the ground.