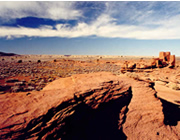 NPS photo by Dallas Larsen.
The geologic story of Wupatki is closely linked to that of Sunset Crater Volcano National Monument, located 18 miles to the south. Click here for an overview of both.
Cinders from the eruption of nearby Sunset Crater Volcano blanket parts of Wupatki National Monument. Click here to read the research report.