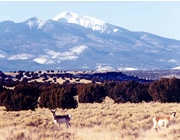 NPS photo by Dallas Larsen
Wupatki National Monument lies in a corner of the Great Basin desert, often called the Navajoan desert because of the presence of the Navajo Nation in this area. The desert climate of the monument, situated in the rain shadow of the San Francisco Peaks, constantly challenges and sharpens the survival skills of the animals living here.
Common wildlife includes coyotes, pronghorn, mule deer, jackrabbits, cottontail rabbits, antelope ground squirrels, and numerous reptiles and birds. But it's a big landscape, and these animals are highly adapted to their surroundings. It takes patience, keen powers of observation, and a little luck to catch a glimpse of most of them.