Topographic Maps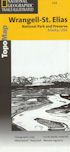 National Geographic - Trails Illustrated has produced a 1:375,000 (1 inch = 6 miles) scale map of Wrangell-St. Elias that is a great tool for initial trip planning. It is waterproof, tear resistant, and covers the entire park, including detailed inserts of the Nabesna Road and McCarthy/Kennecott areas. This map is available at all park ranger stations, or online through the Alaska Geographic for $11.95
We highly recommend that backcountry hikers also purchase the highly detailed USGS 1:63,360 (1 inch = 1 mile) topographic maps, also known as 15-minute quadrangle maps of the particular route they plan to travel. Note: this part of Alaska is not covered by USGS 7.5-minute maps.
Click here for an index to the quad maps for park coverage.
NOTE: Conditions of "trails", "roads", physiographic features and structures depicted on USGS maps may have changed, be overgrown or no longer exist.

Did You Know?

The 300-mile long Copper River, with an average fall of 12 feet per mile and average current of 7 MPH, is estimated to discharge 61,000 cubic feet of water per second during the summer months.