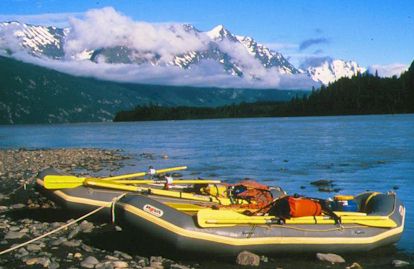 The rivers of Wrangell-St. Elias National Park and Preserve offer visitors adventure and solitude. It is possible to travel for days at a time without seeing another person, trail, sign or bridge. A river trip in Wrangell-St. Elias is a remote, backcountry experience. You must be self-sufficient and prepared. There are several hazards that you'll encounter on Alaskan rivers that you might not experience elsewhere. If you've never guided your own river trip, we don't recommend that your first time be here. There are several guiding companies that offer guided float trips on rivers in Wrangell-St. Elias.
Each river visitor is responsible for minimizing his or her impact on the river corridor to preserve the wild and pristine character of the river. Please "Leave No Trace" of your visit as you journey down the rivers of Wrangell-St. Elias.
If you plan to do your own river trip, please read our River Use Tips. All river trips require time spent in the backcountry. Read our Backcountry Frequently Asked Questions to find out what you might need to know about spending time in the backcountry. Also, learn how to stay safe in the backcountry.
Float Trip Descriptions
Nizina Glacier to Chitina River Float Trip (pdf format, 2.9 MB)
About 90 river miles on the Nizina, Kennicott, and Chitina Rivers.
Copper River Float - Chitina to the Million Dollar Bridge (Cordova) (pdf format, 1.4 MB)
About 85 river miles on the Copper River, includes Tazlina to Chitina variation.
We do not have written descriptions for the following float trips. If you want information about these trips, please contact the Wrangell-St. Elias Visitor Center. We will try to put you in contact with a backcountry ranger who has done one of these trips, but you will need to research these trips on your own as well.
Chitina River Float
Hubert's Landing to Chitina

Nabesna River Float
Orange Hill to Northway

Skolai Pass-White River Float