Backcountry Airstrips and Cabins
There are three improved airstrips in Wrangell-St. Elias. One, located at McCarthy, is maintained by the State of Alaska. The other two, at May Creek and Chisana, are maintained by the park. Public airport facilities are also located near the park at Gulkana and Chitina. For more information about the improved airstrips in the park, click on the links below.
McCarthy Airstrip (pdf)
May Creek Airstrip (pdf)
Chisana Airstrip (pdf)
There are unimproved strips, requiring requisite pilot skill, at numerous locations throughout the park, many adjacent to public use cabins. These locations include the following locations: Chelle Lake, Glacier Creek, Hubert's Landing, Jake's Bar, Orange Hill, and Peavine. Please contact the park Operations Center and Hangar at (907) 822-7425 for detailed information on specific landing areas.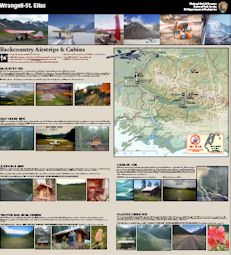 Wrangell-St. Elias National Park & Preserve
Backcountry Airstrips and Cabins Publications
Poster of Airstrips & Cabins (pdf format, 2.8 MB): This 30' x 33" poster-sized publication highlights the park's most accessible and popular backcountry airstrips and public-use cabins including McCarthy, May Creek, Chisana, Glacier Creek, Jake's Bar, and Peavine Bar. There is helpful information on the airstrips and many photographs.
Map of Airstrips & Backcountry Cabins (pdf format): This letter-sized handout is a simple map of all the public airstrips and cabins in the park.