Wrangell-St. Elias Visitor Center to close for the winter on Nov. 1st.

Wrangell-St. Elias's main visitor center, located near Copper Center, AK, will be closed for the winter starting November 1. The visitor center will re-open on April 1, 2015.
Backcountry Airstrips and Cabins
There are three improved airstrips in Wrangell-St. Elias. One, located at McCarthy, is maintained by the State of Alaska. The other two, at May Creek and Chisana, are maintained by the park. Public airport facilities are also located near the park at Gulkana and Chitina. For more information about the improved airstrips in the park, click on the links below.
There are unimproved strips, requiring requisite pilot skill, at numerous locations throughout the park, many adjacent to public use cabins. These locations include the following locations:
Chelle Lake, Glacier Creek, Hubert's Landing, Jake's Bar, Orange Hill, and Peavine. Please contact the park Operations Center and Hangar at (907) 822-7425 for detailed information on specific landing areas.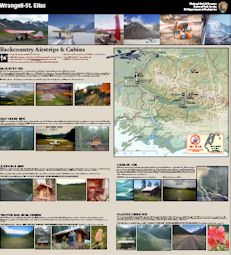 Wrangell-St. Elias National Park & Preserve
Backcountry Airstrips and Cabins Posters
30x33" poster sized publication highlighting the park's most accessible and popular backcountry airstrips and public-use cabins, including McCarthy, May Creek, Chisana, Glacier Creek, Jake's Bar, and Peavine Bar. Helpful information on the airstrips and many photographs.
Click Here for the poster (PDF format, 2.8 MB).
Click Here for map of all backcountry cabins & airstrips (PDF).
Did You Know?

The fishwheel, a device relied upon by many Alaskans today for harvesting salmon, was first used in the U.S. in North Carolina in 1829. A good spot to observe fishwheels in action is in the Copper River, near Chitina.