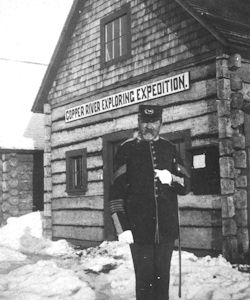 Nat'l Archives
A Trail to Eagle City
The Army sent Captain William R. Abercrombie to the region in 1898 to locate the safest and most efficient route for the trail. Abercrombie worked quickly, and by September 1899 the government's half-finished route was already filled with prospectors heading for the Copper River Valley. Encouraged by such traffic, construction continued, and by 1901 the military had completed its trail all the way to Eagle City.
Mountaineer Robert Dunn employed the trail the following year on his way to Copper Center. Unlike the stampeders, who were often too preoccupied to note its spectacular scenery, Dunn recorded a vivid description of the route:
By night we had gone twenty miles up the Lowe River-its bed a strip of Arizona in the exotic forest-and then through Keystone Canyon by a five-foot trail cut in the cliff's face a thousand feet above the stream. In the canyon were two waterfalls, each 700 feet high....Another day among ptarmigan and ice and blue morainal tarns took us over the misty pass and into the great valley of the Copper River.
The Route to Fairbanks
Despite its proximity to the Klondike, Eagle City did not remain the region's primary destination for long. Mineral production on the upper Yukon River soon began to decline and in 1902, Felix Pedro discovered gold in the Tanana Valley. Stampeders heading for this new strike left the Valdez-Eagle Trail near the Gakona River, crossed the Alaska Range through Isabel Pass, then followed the Tanana River northwest to Fairbanks. By 1904, this Valdez-Fairbanks Trail had become the dominant interior route.
The new path soon received its first improvements. In 1905 President Theodore Roosevelt established the Board of Road Commissioners for Alaska and designated Major Wilds P. Richardson as president. Richardson was particularly concerned about the development of interior Alaska and emphasized the speedy construction of a more permanent Valdez-Fairbanks route.
Roadhouses & Automobiles
By 1905, enterprising citizens had located "roadhouses" along the entire route. Usually owned by homesteaders, these inns provided travelers with a convenient and comfortable place to stop. As most operators cultivated gardens, many supplied fresh vegetables in season. Not surprisingly, these lodges became the local nodes-what Richardson called "small centers of settlement and supply"-from which to explore the surrounding country. Many, like the Copper Center, Big Delta, and Salcha, eventually developed into sizable communities.
By 1913 the first automobile traveled the entire length of the trail. Although it only averaged about nine miles per hour, others quickly followed. By 1918, automobile stage coaches plied regular routes between Valdez and Fairbanks, and motorized vehicles carried most of the mail. No longer a trail, in 1919 the Road Commission redesigned the route as the Richardson Road in honor of its newly retired first president, Wilds Richardson.