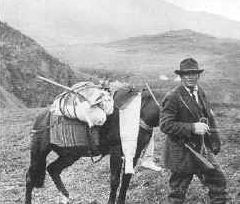 The Perfect Outfit
A well-dressed prospector's outfit includes a rifle, pick, shovel, gold pan, and waders. Not all stampeders were as well prepared for the Alaskan experience. Thomas Riggs, then head of a government survey party and a future governor of Alaska, remembered meeting one man
"...going into the interior with a horse on which he had packed ten pounds of raisins, having been informed that raisins were unusually efficacious in sustaining life in that country. We found scores of persons who had absolutely no idea how to pack their horses and who were carrying in supplies that could not possibly sustain them."
The Boom Ends
Local miners never made that long-expected strike. The district's boom was brief, and by the mid 1920s both communities were largely abandoned. Milton Medary, who visited Chisana City in 1924, described it as "452 log cabins in which one man lives alone."
Chisana Today
Today, Chisana enjoys a seasonal population of about twenty-five. A few persistent placer miners continue to work the district's creeks. The spiritual heirs of the stampeders, they continue their predecessor's quest, ever searching for that one rich strike. There are bed and breakfasts and guide/outfitters in this area that is accessible only by small aircraft. Some adventurous hikers retrace the steps of the early stampeders and make the trek from Chisana to McCarthy. This is a difficult route and should only be attempted by experienced backcountry travelers.
As you hike around Chisana you will see ruins of structures and historic artifacts throughout the area. Please don't remove or relocate anything. They provide important clues to the story of the people who followed the lure of gold to Chisana. Many of the historic structures are located on private property. Public easements are marked, so please respect private property while at the site. The National Park Service has restored four log buildings in the original townsite. The Too Much Johnson Cabin is available for public use.