Headquarter's Visitor Center Switching to Winter Hours on Sept. 20th

Wrangell-St Elias's main visitor center, located near Copper Center, AK, will be switching to winter hours starting September 20th. The new hours of operation are Mon.-Fri. 9:00 am-4:00 pm and closed on Saturday and Sunday.
Rigging for Rescue
Earlier this summer the Ranger Staff and mountain guides from Kennecott Wilderness Guides and Ultima Thule participated in a week long technical ropework seminar taught by Rigging for Rescue.  The course was an excellent opporunity to learn new skills and to refresh old ones.  The participants worked through a variety of different scenarios from pretty simple to quite complex. 
The course centered around the Root Glacier and Kennecott areas, where most of the park's visitation is focused.  The Rangers respond to emergencies in these areas every year which made it an excellent training location.   
The scenarios ranged from simple litter carryouts that required a belay line for additional security all the way up to a guiding line operation that raised an attendant, patient and litter 100 vertical feet out of the canyon between the glacier and the hillside. 
This seminar was also an excellent opportunity to cross-train with some of the great folks that work in and around Wrangell-St Elias National Park.  The park often calls on guides and other qualified locals to assist with search and rescue operations.  This seminar was a really great team building exercise in addition to helping develop technical skills.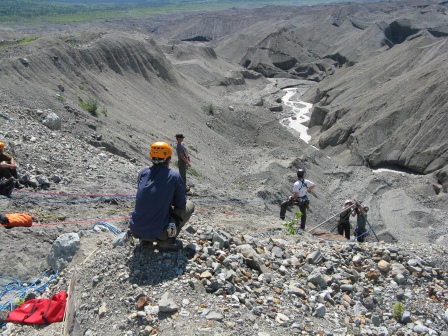 Post A Comment
Did You Know?

12,010' Mt. Drum was first climbed on June 4, 1954 by Heinrich Harrer, Keith Hart, and George Schaller. You may recall Heinrich Harrer as the principle figure in the book "Seven Years in Tibet".