WRANGELL ST ELIAS SUBSISTENCE RESOURCE COMMISSION TO MEET IN CHISTOCHINA

The Wrangell-St. Elias National Park Subsistence Resource Commission will meet at the Chistochina Community Hall on Tuesday, October 29, and Wednesday, October 30, to consider a range of issues related to subsistence hunting and fishing in the park. More »
WRANGELL-ST. ELIAS TO CLOSE HEADQUARTER'S VISITOR CENTER FOR THE WINTER

Copper Center, AK – The Wrangell-St. Elias National Park Visitor Center in Copper Center will be closed for the winter beginning November 1. More »
End of the season
The end of the season has arrived in Wrangell St Elias.  We had another great year for the backcountry staff with an increase in the number of patrols from last year.  The leaves are just about gone from the trees and most evenings we are getting frost.  We've had some unusual weather here at the end of the season with relatively warm temperatures and a lot of precipitation.  The rivers are still running a little high although not as high as other parts of the state.
The highlights from my season include patrolling two rivers that I had not floated before and two new backcountry routes.  It has been a successful and more importantly a safe backcountry summer here and I'm looking forward to coming back next spring.  Right now I hear the siren's call of warm desert rock!  See you in the spring.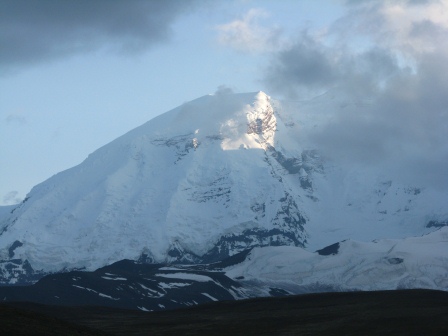 Post A Comment
Did You Know?

Battling snowstorms during most of her 33-day climb, team leader Dora Keen, along with team member George Handy, was the first to summit 16,390' Mt. Blackburn. A famous 1912 Saturday Evening Post article, entitled "First Up Mount Blackburn", was written by Keen shortly following her amazing feat.