Wrangell-St. Elias Visitor Center Switching to Fall Hours on Sept. 20th

Wrangell-St Elias's main visitor center, located near Copper Center, AK, is on fall hours starting September 20th. The fall hours of operation are Mon.-Fri. 9:00 am-4:00 pm, closed on federal holidays.
BEAR!!!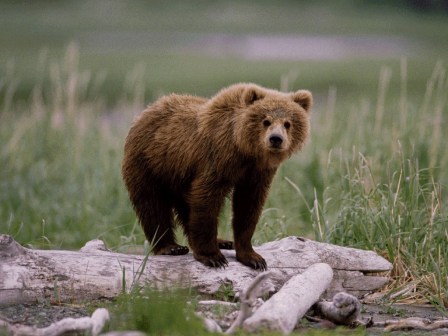 A much more docile bear.
I recently completed a patrol of the Goat Trail with a NPS Volunteer. During the course of this patrol we had one of the closest and scariest bear encounters I have ever experienced.  
We were near the southwest end of Chitistone Pass when we saw the bears. The terrain in this area is wide open tundra, no trees or brush. We saw the bears about 100 yards away down near a creek, a sow with two small spring cubs. The bears saw us at about the same time and the sow did exactly what we wanted her to do, she turned and ran away from us. The cubs took one look and ran straight for us. As soon as we saw the cubs head our way we started shouting and backing away from the bears, we also tried to back into the wind so it would be easier for them to get our scent. The sow reversed directions as soon as she realized that her two little cubs were not with her. She raced after the cubs and we continued to back away and shout. We waved our arms over our heads and I pulled the can of bear spray off my hipbelt and removed the safety tab. The sow caught up with the cubs but by now they were pretty close to us, maybe 30 yards away. The sow hesitated very briefly next to the cubs and then charged straight for us. Her focus very obviously shifted from trying to gain control of her cubs to eliminating the threat to them. As soon as we saw this change and she started her charge we stopped backing up and stood our ground. I pointed the can of bear spray at the charging sow and waited... and waited. We continued to shout and changed the tone of our voices to be more aggressive and louder. The sow continued her charge. I waited until she was about 15 or 20 feet away before discharging the bear spray. As soon as I discharged it she veered to our left, the wind carried the cloud of spray directly into her. She pulled her head back and snorted as she passed through the cloud. She circled back towards her cubs and then charged again. The second charge stopped much further away and she returned to her cubs. We retreated away from the bears and scrambled up onto a small strip of morraine near the edge of the pass. The bears headed up the side of the mountain and away from us, ending the encounter.
This encounter showed a number of classic bear behavior characteristics as well as several good teaching points.
A sow with cubs is significantly more dangerous than a single bear. Sows are extremely protective and their behavior is much more defensive and potentially aggressive.
Initially, the sow did exactly what we wanted her to do, run away, the curious cubs did not.
The bear spray was effective because we moved when we saw the bears. We backed into the wind, which allowed us to discharge the bear spray with the wind rather than into it or across it. This also helped the bears get our scent.
A firearm or bear spray is only useful if you can get to it and be ready to use it very quickly (less than two seconds). A shotgun strapped to my pack or bear spray carried in the lid of my bag would have been useless.
This is one of the closest bear encounters I have had after almost a decade as a backcountry ranger in Alaska. I feel strongly that we had a positive outcome from this encounter because of our actions. We stayed calm, we did not run, we did not fall to the ground the instant the bear charged, we were prepared with bear spray, and we used it as a last option.
Bear encounters like this one are rare, but they do happen. Seek out proper education for staying safe in bear country and be prepared to use that training when you are in the backcountry.
Post A Comment
Did You Know?

The oldest road in Alaska, the Richardson Highway, evolved from a 5-foot wide pack route called the Valdez Trail. This route, initiated in 1898, served as the only land access to Interior Alaska until completion of the Alaska Highway in 1942.