Visitor Centers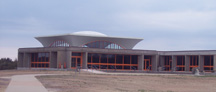 NPS
Enjoy learning about one of the greatest scientific achievements of the 20th century as you experience the lively atmosphere inside the Wright Brothers Visitor Center.
Operational Hours
open all year except Christmas Day 9 a.m.- 5 p.m.

Exhibits include
a Wright brothers wind tunnel reproduction

the original Wright brothers' engine block

the 1902 Glider and the 1903 Flyer reproductions.
Special programs
daily scheduled presentations are conducted by park rangers in the Flight Room Auditorium. Additional talks and conducted tours are available during the summer season. Contact us for scheduled programs.

Available facilities
include restrooms, bookstore, and telephones.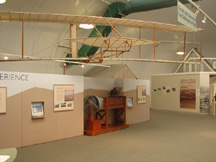 NPS
The Centennial Pavilion
Houses exhibits dealing with the Outer Banks at the turn-of-the-century, the evolution of aviation, Wright Experience's exhibit on the development of the 2003 replica, and NASA-sponsored space exhibits as well as a Gift Shop.
Films/videos are shown in the multi-purpose auditorium.
Celebratory events such as the December 17, 1903 Anniversary, Wilbur Wright's birthday, National Aviation Day/ Orville Wright's birthday occur each year in the auditorium.