Kitty Hawk - A Likely Location for Flying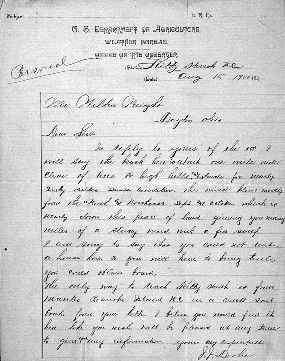 Library of Congress, Manuscript Division; mwright-03084
Sun, sand, fishing, ocean breezes and spectacular weather-the very things that attract millions of visitors to the Outer Banks every year-appealed to Wilbur and Orville Wright as well; not for an ideal vacation, but for "the purpose of making some experiments with a flying machine."
The Wright brothers were careful in setting their environmental criteria for conducting their gliding experiments in 1900; they needed reasonably brisk, steady winds, open areas free from obstructions, elevations from which to launch their glider, and soft terrain upon which to land.
Records from the United States Weather Bureau in Washington D.C. revealed a likely location near Kitty Hawk, North Carolina. Kitty Hawk Weather Station manager, J.J. Dosher, replied to a Wright brothers' inquiry, answering that the sandy beaches were wide and clear of obstructions and the winds blew steady from the north and northeast in September and October.
Dosher prompted Captain William Tate, a county commissioner, postmaster, and leading citizen of Kitty Hawk, to write a letter to the Wrights: "You could for instance get a stretch of sandy land one-mile by five with a bare hill in center 80 feet high not a tree or bush anywhere to break the evenness of the wind current. . . . I assure you, you will find a hospitable people when you come among us."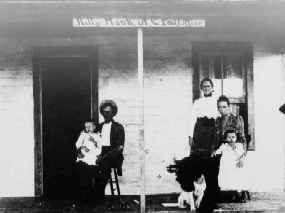 Library of Congress, Prints and Photographs Division; LC-DIG-ppprs-00546
And so they did. The people of the Outer Banks, though viewing the Wright brothers as oddities, were often willing to help. Before establishing themselves at the Kill Devil Hills, the brothers stayed with William Tate and his family. Others like Dan Tate, his son, Tom, and lifesavers from the Kill Devil Hills Life-Saving Station provided invaluable aid in both the gliding and flying experiments.
Over one hundred years later, when you visit North Carolina's Outer Banks, you will still experience that southern hospitality that the Wright brothers found at Kitty Hawk. Though time has changed the area since 1900, including the incorporation of the town of Kill Devil Hills in 1953 (which is why the memorial is not located in Kitty Hawk), much of its beauty, appeal and friendliness, as experienced by the brothers, still remains.