Plan Your Visit
Bring your cellphone.
We have a new Dial and Discover audio tour with five stops. Check it out! Dial (315) 257.9370, add the number to your contacts list and take your own tour when you arrive, it's that easy.
ARTS AFIRE!
Women's Rights National Historical Park is participating in a national initiative of the National Park Service, entiled ARTS AFIRE! This program hopes to engage the public with the park's resources through arts activities.
Burn While You Learn!
The "Burn While You Learn" map will allow you to get fresh air and exercise while learning about the beginnings of the women's rights movement. Use the guided routes on our map to walk in the footsteps of Elizabeth Cady Stanton and other women's rights activists who lived in and traveled through Seneca Falls. The map will help you track distances walked and to calculate approximately how many calories you have burned on your hike. Along the way you can also get information about the Seneca Falls Historic District and other area museum.
Download a copy of our Burn While you Learn map, or stop in and pick one up in our visitor center.
Accessibility
The following buildings at Women's Rights National Historical Park are accessible to wheelchair users:
Visitor Center, 136 Fall Street, Seneca Falls
Wesleyan Chapel, adjacent to the Visitor Center
M'Clintock House, 16 East Williams Street, Waterloo
The Elizabeth Cady Stanton House, 32 Washington Street, Seneca Falls is not accessible to wheelchair users at this time.
The park orientation film Dreams of Equality, shown in the Visitor Center is open captioned.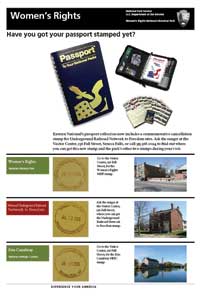 NPS Photo

Dont' forget your Passport to the National Parks.
Our park is "rich" in passport stamps. We have three to collect during your visit: the park stamp, the Erie Canalway National Heritage Corridor, and the Network to Freedom Underground Railroad Stamp. Go to the visitor center to find out where you can get all three.

Did You Know?

Did you know that before Susan B. Anthony campaigned for woman's suffrage, her good friend Elizabeth Cady Stanton spearheaded the First Women's Rights Convention in America? More...