Days of Operation

Beginning on December 30, 2013 the park will be closed on Mondays and Tuesdays. The park will be open Wednesday-Sunday from 9 am to 5 pm
Park News
NPS Photo
Join us in welcoming our new staff.


From left to right:
Intern Sophia Jean Louise Brewer-Berres

Intern Erica LaComb
Seasonal park guide Patrick Stenshorn
Seasonal park guide
Jonathan Ewanyk
Maintenance Stephen Friedel
Intern Collin Hayes
Maintenance Shawn Hall
Intern Michelle Gauthier
Seasonal park guide Brock Ware
Seasonal park guide Seth Tubman
---
March 8, 2013
HAPPY BIRTHDAY, DAVID WRIGHT!
The husbands of the organizers of the First Women's Rights Convention celebrated birthdays, too!

David Wright, husband of Martha Wright, was born on March 8, 1806. Born in Pennsylvania, David Wright worked several jobs before becoming a lawyer in Aurora and later in Auburn, New York. David Wright married Martha Coffin, a young widow with her four-year-old daughter Marianna, in 1829.
David Wright and Martha Wright shared similar opinions on temperance and the abolition of slavery. The Wrights opened their home as a station on the Underground Railroad, and they provided assistance to Harriet Tubman and several other freedom seekers.
David Wright and Martha Wright agreed to disagree on the subject of women's rights. In 1855 Martha Wright wrote, "If you'll believe it, my husband will not sign the petition for Suffrage."
David Wright created a successful law practice which required travel away from home. Martha Wright's visits to her sister, Lucretia Mott, in Philadelphia, Pennsylvania, resulted in time spent away from each other. Both expressed their love for each other in their letters. In 1857 David Wright wrote to Martha Wright, "I commenced the study of law and soon became acquainted
with a young widow with one of the dearest and sweetest little girls you ever saw who lived at Aurora and how foolish I was to marry them and how many pleasant and happy days we have spent together since."
Birthday celebrations are seen as happy occasions spent with family. On the observance of David Wright's birthday, we can recall past birthdays with our families and friends.

Happy Birthday, David Wright!
---
NPS
February 24, 2013
STUDENTS AS VOLUNTEERS -- YOU CAN DO IT, TOO!


Christine Dinh and Jeffrey Ng volunteered recently at Women's Rights National Historical Park.

Christine and Jeffrey are students at the New York Chiropractic College, which is located in Seneca Falls.

We appreciate the choice that several students have made to volunteer here.

Thank you, Christine and Jeffrey!
---
NPS
February 17, 2013
VOLUNTEER AND STAND BESIDE ELIZABETH CADY STANTON!


Are you looking for something different?

Try volunteering at one of our special events!

Melinda Grube portrayed Elizabeth Cady Stanton during the 2012 Convention Days weekend.

You can help in a variety of ways, this is just one of them.

Stop by with your own ideas about how to can help.

Volunteer today!


---
NPS
February 9, 2013
EVERY DAY IS VOLUNTEER APPRECIATION DAY!

Volunteers provide important services, and the staff at Women's Rights NHP appreciates the dedicated efforts of all of our volunteers!

In this photo Volunteer Coordinator John Stoudt awards a certificate to Social Media Volunteer Stephanie Freese.

Thank you to Stephanie and all of our volunteers!


---
NPS
February 2, 2013
LOOKING FOR SOMETHING DIFFERENT?

VOLUNTEER TODAY!

If you are tired of cold weather and the winter doldrums, then consider volunteering for the National Park Service! Chelsea Lytle assisted the Cultural Resources team in setting up a special art exhibit last year at Women's Rights NHP. Find the different ways in which you can help, too!
---
January 23, 2013
President Obama made mention of Seneca Falls along with Selma and Stonewall in his inaugural address on January 21, 2013.
Read the entire address here.
---
NPS
January 13, 2013
WE'RE ALL IN THE PICTURE -- ARE YOU?

VOLUNTEER TODAY!


Women's Rights NHP Volunteer Helen Kirker and Chief of Interpretation and Education Ami Ghazala check the camera before taking a photo.
Learn what exciting
volunteer
opportunities are available for you today!
Contact
John Stoudt
for more information.
---
NPS Photo
January 2, 2013


WHO TAKES THE PHOTOS?

BECOME A VOLUNTEER PHOTOGRAPHER!


You have seen the photos of Women's Rights NHP's volunteers. Meet the one of the photographers -- Park Ranger Jamie Wolfe! Along with Volunteer Coordinator John Stoudt, Jamie records the events in which our volunteers provide their time and service. Do you want to learn more about volunteering at Women's Rights NHP?
Contact us today
!
---
NPS Photo
December 22, 2012

HOLIDAY GREETINGS!
Women's Rights NHP Volunteer Helen Kirker and Volunteer Coordinator John Stoudt wish every one a happy and safe holiday season!
Check out what the other park volunteers are up.
---
NPS Photo
December 8 and 9, 2012
Join the park in celebrating with the village of Seneca Falls in the "It's a Wonderful Life" Festival. One weekend a year the village of Seneca Falls in transformed into the Real Bedford Falls.
The park will offer crafts, coloring, or make a holiday card throughout the day on Saturday and Sunday. In the visitor center check out a display of vintage holiday cards and an exhibit of Richard Hunt's papers. View our Winter Film Festival feature "Top Secret Rosies" at 12 Noon on Saturday. The park visitor center is open from 9:00 am until 8:00 pm on Saturday and from 9:00 am until 5:00 pm on Sunday.
Check out our new flyer that features 1946 America and "It's a Wonderful Life."

Read or view the park's news release here for more information.
_____________________________________________________________________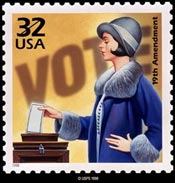 NPS Photo
Read the National Women's Rights History Project Act that outlines the proposal to expand Women's Rights National Historical Park by adding a Votes For Women Trail.
Read the March 31, 2009 press release about the progress of this legislation here.


Did You Know?

Did you know that one of the organizers of the First Women's Rights Convention in America, Martha Coffin Wright, frequently housed fugitive slaves in her kitchen? More...