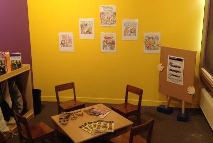 NPS
Kid Zone!
A new and improved kid's zone is now available for young visitors to explore, protect, and learn about Women's Rights National Historical Park!
Immerse yourself in the past as you try on clothing from the time period, discover what it takes to become a Junior Ranger as you earn your own badge, dive into a book and learn about women's rights, and explore the importance of the Underground Railroad!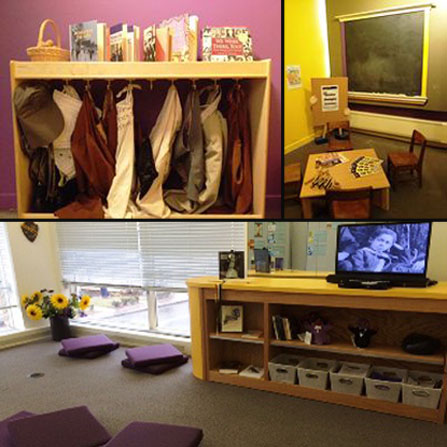 NPS
Junior Ranger Program

Young visitors may use our Junior Ranger Activity Book to explore the Park Visitor Center and some of our historic sites. It is a workbook full of questions, puzzles, and coloring pages to help kids learn about the women's rights movement. When you arrive at the Park Visitor Center, ask the ranger at the information desk for one to fill out. Or download the Activity Book and Activity Cover here and mail it in using the address found inside. Successful completion of the workbook earns the junior ranger a badge and a certificate.
Listen to Songs For Junior Rangers

New Orleans Jazz by Jeff Wolin from "Songs For Junior Rangers" Volume 1

Duration:

3 minutes, 37 seconds

Credit / Author:

NPS

Date created:

2013-02-10
Check Out this Junior Ranger Song!

Explore, Learn, and Protect by Jeff Wolin From "Songs For Junior Rangers," Volume 1

Duration:

3 minutes, 27 seconds

Credit / Author:

NPS

Date created:

2013-02-10

Download Original File:
Learn About the Airmen of Tuskegee

The Airmen of Tuskegee by Jeff Wolin From "Songs For Junior Rangers," Volume 1

Duration:

3 minutes, 37 seconds

Credit / Author:

NPS

Date created:

2013-02-10

Download Original File: