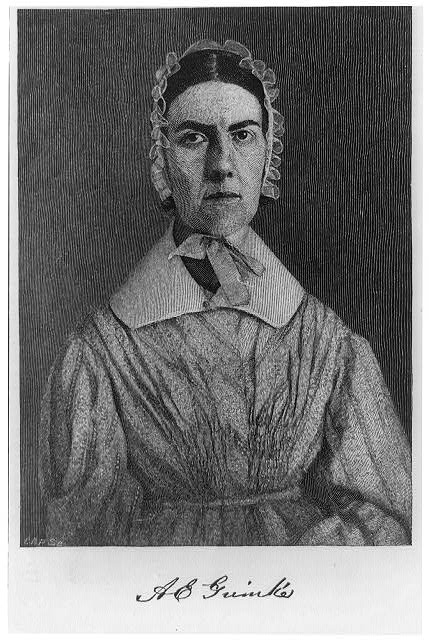 Library of Congress
The sisters' conversion to Quakerism and subsequent move to Philadelphia made them virtual outcasts in the South, but they also found themselves at odds with many northerners after William Lloyd Garrison published a personal letter Angelina wrote to him in The Liberator. In her letter Angelina encouraged Garrison to stand his ground even in the face of mob violence: "If persecution is the means which God has ordained for the accomplishment of this great end, emancipation, then…I feel as if I could say, let it come; for it is my deep, solemn deliberate conviction, that this is a cause worth dying for…." Angelina chose not to recall the letter despite the outrage it caused among fellow Quakers who believed she was a radical abolitionist. Despite the disapproval they faced from fellow Quakers and from a society that did not accept women as public speakers on such controversial topics as slavery, the Grimke sisters found themselves caught up in the antislavery movement.
In 1836 Angelina wrote her Appeal to the Christian Women of the South imploring white southern women to embrace the antislavery cause. She wrote, "I know you do not make the laws, but I also know that you are the wives and mothers, the sisters and daughters of those who do; and if you really suppose you can do nothing to overthrow slavery, you are greatly mistaken." Her writing drew the ire of southerners who opposed its abolitionist message and northerners who felt that women had no business writing or speaking about something as controversial as slavery. This outcry over women abolitionists prompted Sarah to write Letters on the Equality of the Sexes. By the late 1830s the Grimke sisters were known not only as abolitionists but also as proponents of women's rights.
Although Sarah and Angelina did not attend the First Woman's Rights Convention held in Seneca Falls in 1848, Sarah received an invitation to the event from Elizabeth Cady Stanton, as evidenced by this letter to Elizabeth M'Clintock:
Grassmere [Seneca Falls] Friday morning [14? July 1848]
Dear Lizzie,
Rain or shine I intend to spend Sunday with you that we may all together concoct a declaration I have drawn up one but you may suggest any alterations & improvements for I know it is not as perfect a declaration as should go forth from the first woman's rights convention that has ever assembled. I shall take the ten o'clock train in the morning & return at five in the evening, provided we can accomplish all our business in that time. I have written to Lydia Maria Child Maria Chapman & Sarah Grimke, as we hope for some good letters to read at the convention. Your friend
Elizabeth Cady Stanton
The Stantons were good friends of the Grimkes: Elizabeth's husband Henry served as best man at the wedding of Angelina Grimke and Theodore Weld, sent their oldest sons to the Grimke-Weld boarding school, and, in honor of Angelina's husband, named their fourth son Theodore Weld Stanton.