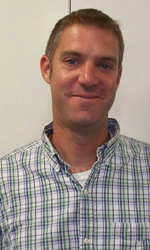 NPS
Meet Our Teacher-Ranger-Teachers for 2012-2013.
Eric Lewis, a sixth grade teacher from Lyons, NY was the park's first teacher-ranger-teacher. The 2011-12 school year ended in New York the third week in June. Eric completed his NPS orientation training and reviewed park resources on his own, went on park ranger programs, and reviewed print materials.

Eric visited his local historical society and contacted local historians to explore resources specifically related to his school district.

Park staff assisted him with resource materials, explained visitor experiences and expectations, NPS Mission goals. With this information, Eric was able to build a group of seven individual lesson plans under the heading "..of the Kind Called Radical." He included activities for 4th, 7th, and 11th grades.
Eric said this about the program: "My experience as a TRT has been an enriching one. I have been able to spend time researching interesting people and places right here in the Finger Lakes of New York. I have also been able to design lesson plans that will hopefully tell the stories of some of my own heroes, the women and men of Seneca Falls and nearby, to children studying this important part of American History. Unfortunately, the story of what happened here in Seneca Falls and the people who were involved in the struggle for women's rights all too often goes untold. Hopefully the work I did this summer will help more students to learn about just how amazing they were! Thank you! I really enjoyed the position, the research, and creating the plans." Eric Lewis, August 2012.