Park Closings

Visitors should call 315-568-0024 before visiting the park during the winter months. Due to inclement weather, the park may close with short notice.
Days of Operation

Beginning on December 30, 2013 the park will be closed on Mondays and Tuesdays. The park will be open Wednesday-Sunday from 9 am to 5 pm
Parks as Classrooms
Thinking of bringing your class to Women's Rights NHP for a field trip? We can help your class make better use of our museum exhibits during their visit. Download and print our scavenger hunts for elementary, middle, and high school levels. E-mail the park's education coordinator for answer sheets, and use the scavenger hunts to help assess your students visit to the park.
Lesson Plans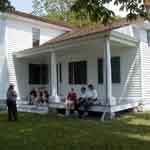 Scavenger Hunts Available
Learn More
The park offers field trips for Elementary, Middle, and High School levels. They all explore the Wesleyan Chapel and the Elizabeth Cady Stanton House. All groups begin with a viewing of the park's orientation film "Dreams of Equality" and then view the park's exhibits and explore the First Wave Statue exhibit. For reservations, please contact Ranger Jamie Wolfe at 315.568.2991 ext. 3003.
Field Trips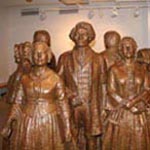 Field Trips
Learn More