Prairie Hike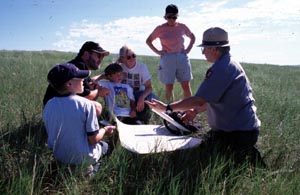 NPS Photo by Mike Landrum
Sanson Ranch Hike
Explore the park's new addition - the hisitoric Sanson Ranch and Buffalo Jump with a ranger. This 3 hour activity will meet at the visitor center and then drive to the new addition to the park. This drive is mostly on gravel roads. Hiking boots or sturdy shoes and water are advised. Check at the visitor center for details. The Prairie Hikes are presented on Saturdays and Sundays from mid-June through mid-August.
Bird Hike
Wind Cave National Park is located in a mixing zone where the eastern tall grass prairie meets the western short grass prairie and where the mountains meet the plains. Because of this there is a diverse population of birds in the park. Joing a ranger and explore the world of birds in the park. This 1 and 1/2 hour Bird Hike is offered at 9:00 am on Mondays from mid-June through mid-August and meets at the visitor center.
Did You Know?

A Rocky Mountain bull elk weighs between 700 - 800 pounds.  Rocky Mountain elk were introduced to the park in 1914 and 1916. More...