Prairie Hike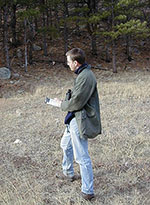 Two different hikes will be offered this year to help visitors learn more about the park.
Each Monday from June 21 - August 2 park rangers will be hosting a bird hike. This two-hour activity will leave from the visitor center at 9:00 a.m. and explore the bird life around the park headquarters. Birding in the park can be an exciting activity for visitors from all around the country since the park is located in an ecotone where the western short-grass prairie meets the eastern tall-grass prairie. This mixing zone creates habitats which support both eastern and western species of birds so you never know what kind of unique species you might find. Come explore the bird life each Monday with a park ranger.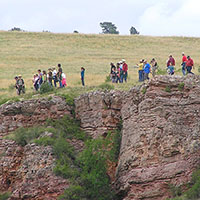 NPS Phote
A three-hour tour of the Sanson Buffalo Jump will be offered every Saturday from June 21 to August 2. Participants should meet at the park visitor center at 8:45 a.m. dressed for the weather with water, sunscreen, and hiking shoes. The group will then car caravan out to the Sanson Ranch. The 1.5 mile hike is moderately sternuous and will discuss last summer's archeology investigation of the buffalo jump.