Trail Closure Information

The Highland Creek Trail is closed. Backcountry Zones 1 and 2 are closed to all off-trail travel and use. The Sanctuary and Centennial Trails remain open to through traffic.
Temporary Road Closure Information

Oct. 18 & 19: NPS 5 and 6 are closed for the entire weekend. Monday, Oct. 20, through Wednesday, Oct. 22, NPS 5 will be closed from Highway 87 to NPS 6. Highway 87 will be closed from Road 342 (Beaver Creek Road) north to the park boundary.
For Kids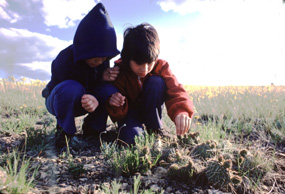 NPS Photo by Bill Holmes
Wind Cave National Park offers a variety of wonderful opportunities to learn about the natural resources of the park for children. Ranger guided hikes, cave tours, or campfire programs provide interesting information about many different aspects of the park. Exploring the visitor center, participating in a Junior Ranger Program, or hiking in the park are great ways to discover what is special about this national park.
Junior Ranger
Program at Wind Cave National Park
Wind Cave WebRanger
On-line Junior Ranger Program at Wind Cave National Park
WebRangers
On-line Junior Ranger Program


Did You Know?

Elk were the most widely distributed member of the deer family in North America and spread from the Atlantic to the Pacific, from Mexico to northern Alberta. Elk began to disappear in the eastern United States in the early 1800s. More...