Group Camping - Frequently Asked Questions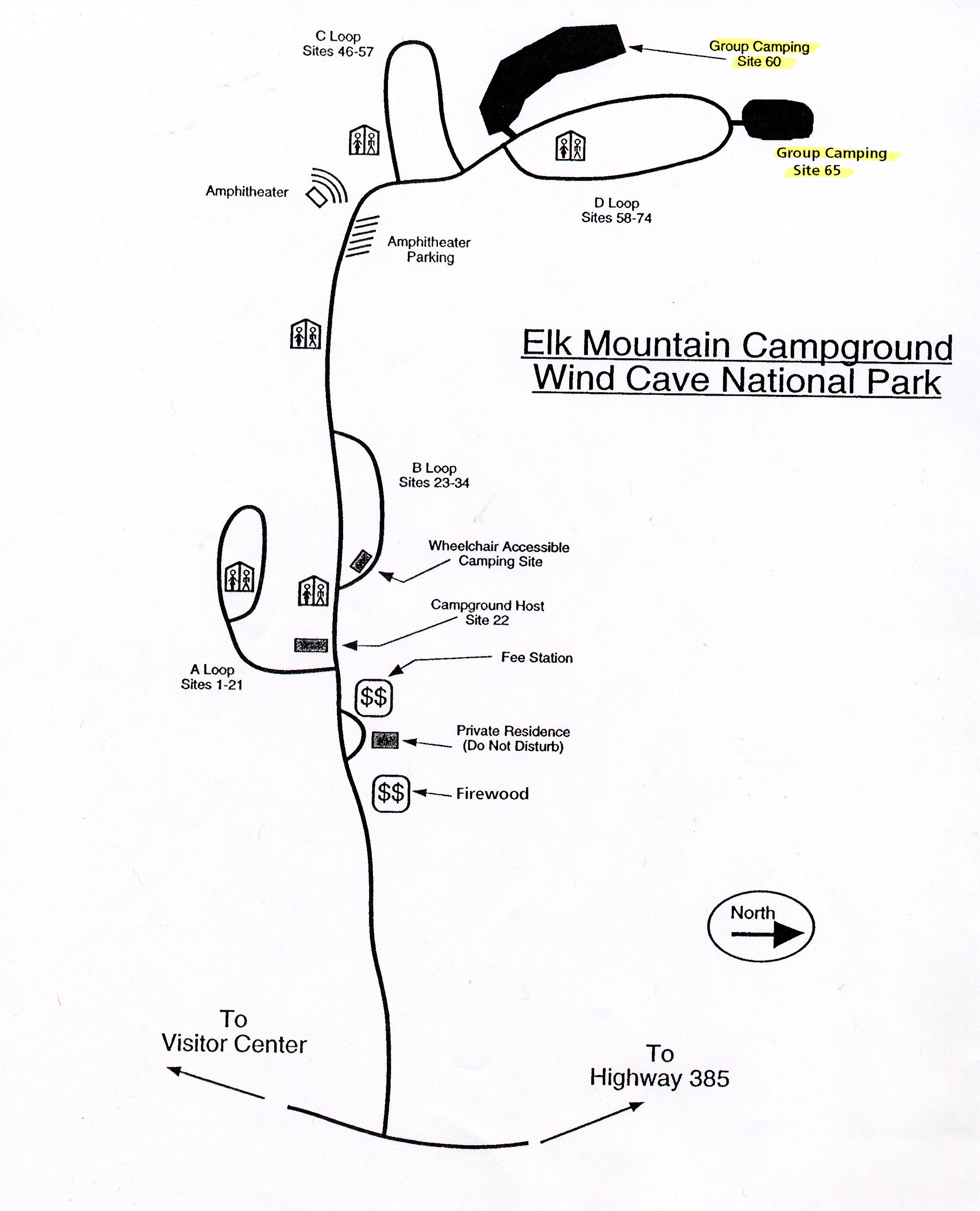 GROUP CAMPING – FREQUENTLY ASKED QUESTIONS
How many people can camp at a Group Camping Site?
· Minimum of 9 people, maximum of 30 people
How many Group Campsites are there?
· 2, Sites #60 & #65 in "D" Loop of Elk Mountain Campground. For a larger view of the map click here.
If I have more than 30 people in my group, may I reserve both Group Campsites?
· Yes, but only if the 2nd site has not already been reserved. (The fee of $40.00 per night would apply for this 2nd site.) We encourage groups of more than 30 people to camp at other locations in the Black Hills (i.e. Custer State Park)
What are the fees?
· $20.00 non-refundable deposit is required (cash, check, or money orders only. NO CREDIT CARDS. The fee per site/per night is $40.00. Your $20.00 deposit will be deducted from the total owed.
Are there ways to have the Group Campsite fees waived?
· In most cases, "No".
How/where do I pay the fees?
· The deposit should be mailed in or brought in person to: Wind Cave National Park, Group Use Coordinator, 26611 U.S. Hwy. 385, Hot Springs, SD 57747. Checks should be made payable to the National Park Service. Additional fees should be paid at the Self-Registration Fee Station located at Elk Mountain Campground.
How do I reserve a Group Campsite?
· Call 605-745-4600, give the Group Use Coordinator your contact & group information, the date(s) you are wanting to reserve, mail in your deposit or bring it to the Visitor Center.
What amenities are available at the Elk Mountain Campground?
· Campfire Rings: Yes, one per site. These also have a cooking grate which can be placed over the open flames.
· Dump Station for RVs: Not available. Located in nearby communities.
· Firewood: available at no charge. The firewood station is located next to the Self-Registration Fee Station.
· General Store: Not available. Located in nearby communities.
· Grills: Not available
· Parking: each Group Campsite has parking to accommodate a variety of vehicles, including trailers & vans. Overflow parking is available at the Amphitheater parking lot. (Only one RV type vehicle will be allowed for camping per group site)
· Picnic Tables: each Group Campsite has approximately 4-6 picnic tables.
· Recycling/Trash Receptacles: available at locations throughout Elk Mountain Campground.
· Restaurants: Not available in the Park. Located in nearby communities.
· Showers: Not available. Located in nearby communities.
· Vending Machines: available in the Visitor Center.
· Water: Drinking water (potable water) is available at various spigots throughout the campground. Sinks with running water & flush toilets are available at campground restrooms. (Note: water is only available during warmer months of late spring, summer, & early fall before there is a chance of a hard freeze. Once freezing temperatures have been reached, the water is turned off, but may be found in the Visitor Center)
What do I do if another group is occupying the site I reserved & was assigned?
· Notify the Campground Hosts or a Park Ranger
Did You Know?

Elk were the most widely distributed member of the deer family in North America and spread from the Atlantic to the Pacific, from Mexico to northern Alberta. Elk began to disappear in the eastern United States in the early 1800s. More...