Campfire Program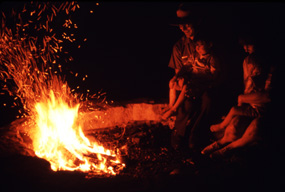 NPS Photo
Become better acquainted with Wind Cave National Park. Evening campfire talks are presented nightly during the summer at the Elk Mountain Campground amphitheater. Topics may include wildlife, plants, geology, park management, and history. The programs last about 45 minutes.
Beginning July 1, 2014 on Tuesdays and Fridays the campfire program will include a short night hike to explore the park's prairie dog towns and possibly see one of North America's rarest mammals - the black-footed ferret. These special ranger programs begin at the Elk Mountain Campground at 9 p.m.. After a brief presentation, the group will car caravan to a nearby prairie dog town where the ranger will lead the group across the prairie. The program ends at 10:30 p.m. Visitors are encouraged to bring a flashlight, long pants, good hiking shoes, and dress for the weather. These special night hikes are offered through July 31.
Did You Know?

Porcupine babies are called porcupettes. When they are born they have 15,000 quills. Porcupettes are born in the spring and, lucky for mom, the quills are soft. They can climb trees within an hour of birth. More...