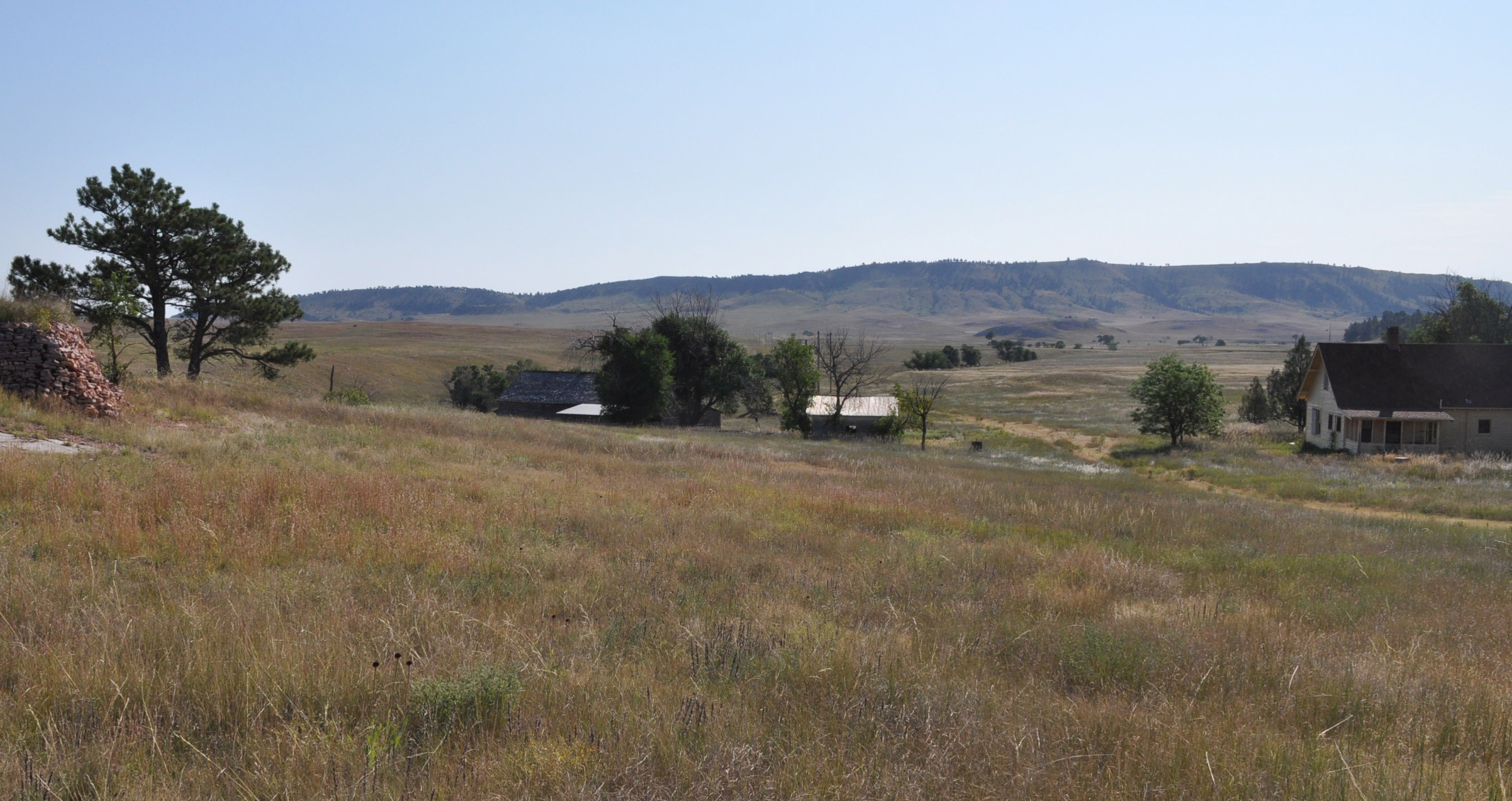 NPS Photo by Tom Farrell
The tract also features one of the oldest homesteads in Custer County, South Dakota. The homestead of Carl Sanson's father and later Sanson himself is testament to the tenacity of these early homesteaders and how they protected and cared for the land.

The Conservation Fund, a nonprofit dedicated to protecting important places across America, acquired the property at auction from the Casey family last year and transferred it to the Park Service. This completes a process begun in 2000 when the family approached the service about selling the land to the park.

"We would like to thank The Conservation Fund for the critical role they played in acquiring this property," National Park Service Director Jonathan B. Jarvis said. "Because of their help, we look forward to providing educational programs about the buffalo jump and historic ranch to area school children and all our visitors."

In 2005, with support from the South Dakota Congressional delegation, Congress passed legislation to expand the park pending an appropriation to purchase the land. When the land was put up for auction by the Casey family, The Conservation Fund purchased the property to hold for the NPS until federal funding became available.

Congress appropriated the necessary funding this year from the federal Land and Water Conservation Fund (LWCF), which enables federal and state agencies to acquire lands that feature important historic, natural, scenic and economic benefits for public use and enjoyment. The fund receives significant revenue from the development of federally-owned offshore oil and gas rights.

"Over 100 years ago President Theodore Roosevelt had the foresight to protect Wind Cave," said Larry Selzer, President and CEO of The Conservation Fund."Thanks to the outstanding bi-partisan leadership of the South Dakota Congressional delegation and the dedication of the National Park Service, we celebrate this achievement to preserve our nation's treasured lands for generations."

Park staff will now start the public planning process to allow visitors to experience this new land. This year-long process, a Visitor Access Plan/Environmental Assessment, is expected to begin this fall and will determine, among other things, where and if hiking trails will be constructed. Broader planning over the next year will address how to comprehensively integrate this land into the rest of the park and address whether or not any new visitor service facilities are needed and whether or not existing wildlife management plans are adequate.
"We are initiating a thorough process to develop a management plan for the land that will involve many opportunities for the public to participate," said park superintendent Vidal Davila."In the meantime, we are looking at ways to get people out on the land so they can help with the planning process." A public dedication for the new land was held October 15, 2011.
Visit http://www.nps.gov/wica/photosmultimedia/casey-dedication-and-land-15-october-2011.htm for photos of the dedication ceremony and new land.