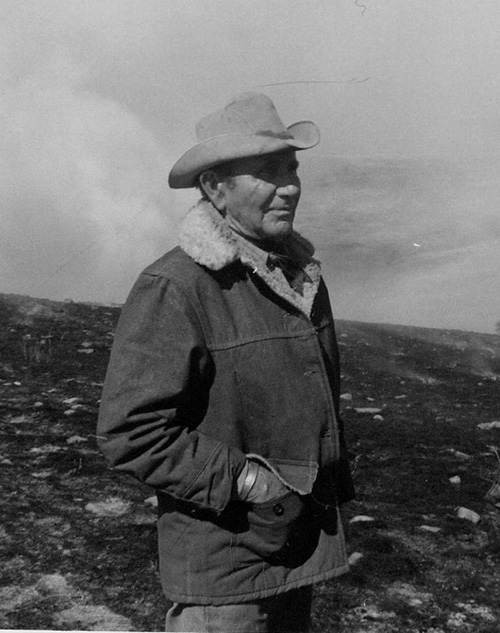 Photo by Dean Shiltz
August Sanson started his homestead in 1882. In 1916 Carl, at the age of 15, took over for his ailing father. Throughout the years they adjusted to the ever-changing prairie and fluctuating financial markets. When the rains stopped coming, they adjusted. Often times in dry conditions, they and their neighbors moved their cattle to other ranges - some on the Pine Ridge Reservation and some as far away as the Badlands.

The Sansons understood that protecting the range was as important as protecting the livestock. Carl explained it in his memoir, "With care and no overgrazing, the grass is still here, which can't be said of some ranches. To overgraze the range will get you if you keep it up. We have sold out our cow herd twice in my lifetime when we had too long a spell of dry years but have always built back up when years were better."
Community Support
To survive on the frontier you not only needed tenacity, you needed a support community, and the local community was an important part of the Sanson story. In his memoir, Sanson wrote "Like any business, the ranching business has many problems that had to be solved the best way we could. …The neighbors were always ready to help anyone anytime; your troubles were their troubles. There couldn't be a better neighborhood anywhere. We always helped each other - if we didn't, a lot of us wouldn't have survived this frontier country."
Sanson's homestead started with a typical 160 acre plot of land. This was added to by August's marriage to Johanna Grashorn in 1888. Johanna and her sister had a nearby homestead which eventually became part of the Sanson Ranch. With future purchases, additional homesteads, and untimely deaths in the family the ranch eventually became 3,700 acres in size.
Tough times
Dry years brought not only a depletion of the range, but dangers of prairie fires and the Sanson Ranch experienced two of them. In 1910 the Sanson home burned and the family lost everything. Much of the forested area of the ranch was burned in 1964. In 1982 Sanson lamented that that the timber was just coming back, but would not get big enough for corral poles in his lifetime.
After the 1910 fire the family lived in the old home site often sleeping outside until 1918 when they rebuilt the ranch house. Carl and his brother Adolph built the foundation out of native flagstone. Digging the basement took a lot of hard work according to Sanson, but money was tight so they did the work themselves.
The cost to build the five bedroom home came to about $3,000.00. They celebrated the completion of the house and his parent's 31st wedding anniversary on May 19, 1919 with 150 friends and neighbors present.