Road Construction Planned for Highway 87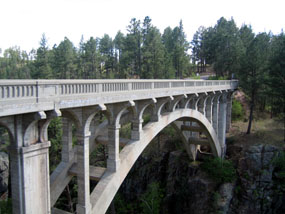 NPS Photo
Date
March 23, 2006
Contact
Tom Farrell, 605-745-4600
Rehabilitation work on scenic Highway 87 in Wind Cave National Park is scheduled to begin this fall and run through July of 2007. The National Park Service Midwest Deputy Regional Director David Given recently signed the Finding of No Significant Impact (FONSI) for an environmental assessment written to rehabilitate and resurface 7.2 miles of South Dakota State Highway 87 and 1.4 miles of Visitor Center access roads.
Highway 87 could be closed between the junction of Highway 385 and the Rankin Ridge Fire Tower Road for up to eight weeks beginning after Labor Day while repairs are made to two historic bridges – the Beaver Creek arched concrete bridge and the Pig Tail Bridge. After a winter break, crews will focus on roadwork. Expect 30-minute delays along Highway 87, and the visitor center access roads could each be closed alternately for four weeks as work is completed on them.
Copies of the FONSI and environmental assessment are available at the Hot Springs, Custer, and Rapid City libraries, at the Wind Cave Visitor Center, or on-line at http://parkplanning.nps.gov/wica.