Pringle and Custer Volunteer Fire Departments Receive Grants from Wind Cave National Park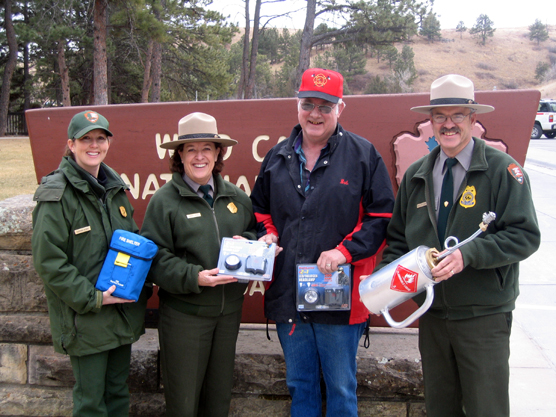 NPS Photo
Date

January 19, 2006
Contact
Tom Farrell, 605-745-4600
The Pringle and Custer Volunteer Fire Departments recently received grants from Wind Cave National Park as part of the Rural Fire Program Assistance Program. Pringle received $2,600 and Custer received $10,000 as part of a program designed to enhance wildland fire protection capabilities near Department of the Interior lands.
"This grant money is really appreciated and is very helpful to our department," said Robert E. Morgan Sr., treasurer of the Pringle department. "The amount we get may not seem like much, but it goes a long way for us."
The Pringle Volunteer Fire Department used the money to improve their personal protective equipment by purchasing upgraded emergency fire shelters and headlamps, along with new drip torches. The Custer Volunteer Fire Department used its grant money to purchase similar personal protective equipment and other items such as fire prevention materials.
The program is designed to increase firefighter safety and enhance the wildland fire protection capabilities of rural fire departments. This is achieved by assisting those departments in meeting or exceeding accepted standards of wildland fire qualifications, training, and performance. Emphasis is placed on departments that protect rural communities and play a substantial cooperative role in the protection of Federal lands such as Wind Cave National Park.
For information about this year's grant application process, contact Supervisory Forestry Technician Sabrina Henry at (605) 745-1166.