Park Hosts Cave Rescue Training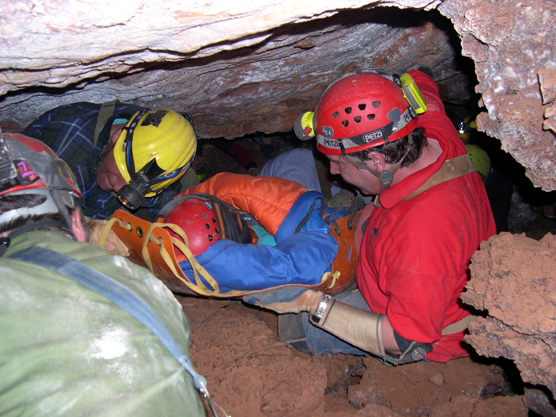 NPS Photo
Date
April 19, 2005
Contact
Tom Farrell, 605-745-4600
Wind Cave, SD - Staff from Wind and Jewel Caves recently participated in a two-day cave rescue training session. Held at Wind Cave, the training involved classroom instruction and a mock search and rescue with two missing cavers, one whose "injuries" required her to be carried out of the cave. After being found along the Wild Cave Tour Route, the injured person was placed in a plastic litter before being dragged, carried, and squeezed through small passages and across boulders before arriving at the cave's elevator entrance.
Lead Instructor Marc Ohms, a Physical Science Technician for the park and a certified cave rescue instructor for the National Cave Rescue Commission, said, "This training taught staff how to care for the hypothermic patient, techniques for packaging a person for transportation in a litter, and tips for handling a litter in a small and confined environment. This was probably the smoothest practice rescue I've ever seen. Everyone worked together to get the injured party out of the cave."
Wind Cave is one of the longest and most complex caves in the world with over 116 miles of passages. Since 1986, over 3,100 caving groups have entered the cave, but only one has needed a major search and rescue. Ohms said, "The one major rescue the park had in 1989 illustrated the need to prepare for such events. Due to the difficult environment in a cave, such as no food, water, and temperatures in the low fifties, there is a heightened sense of urgency to find the lost person before they become unconscious from hyperthermia."
Plans call for similar training to be offered annually. For more information about the park and the exploration of Wind Cave, visit on-line at: www.nps.gov/wica.