Park Aids Local Fire Departments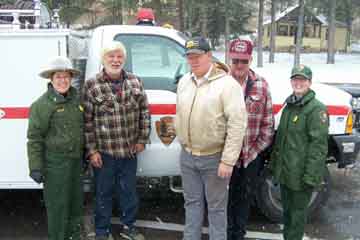 NPS Photo
Date

November 08, 2002
Contact
Tom Farrell, 605/745-1130
Superintendent Linda L. Stoll announced today that over $21,000 has been awarded to local fire departments as part of the Department of Interior's Rural Fire Assistance program. "It helped us a lot," said Dale Walz, Assistant Fire Chief for the Cascade Volunteer Fire Department. "We used it to purchase equipment that we need and have been putting off buying."
Also receiving aid were fire departments in Custer, Hermosa, Custer Highlands, Oelrichs, and Pringle. Fire departments serving up to ten thousand people in the wildland/urban interface are eligible for this program that has a cost-share of at least 10%.
These local fire departments used the money to improve their personal protective equipment such as goggles and facemasks, fire resistant clothing and emergency fire shelters, along with purchasing equipment to improve training opportunities. Mike Zeimet, Assistant Chief of the Pringle VFD, said, "Every little bit of funding you can get makes a big difference to these small departments."
The Rural Fire Assistance Program is primarily designed to increase firefighter safety and enhance the wildland fire protection capabilities of rural fire departments. This is achieved by assisting those departments in meeting or exceeding accepted standards of wildland fire qualifications, training, and performance. Emphasis was placed on departments that protect rural communities and play a substantial cooperative role in the protection of Federal lands such as Wind Cave National Park.
Congress first approved the Rural Fire Assistance Program in response to the extreme wildland fire season of 2000 and the increasing encroachment of communities into the wildland/urban interface – areas where fires can cause catastrophic damage. Superintendent Stoll said, "We are pleased to be able to provide this support to neighboring fire departments. Increased training and equipment benefits all of us."