Local Fire Departments Aided by Wind Cave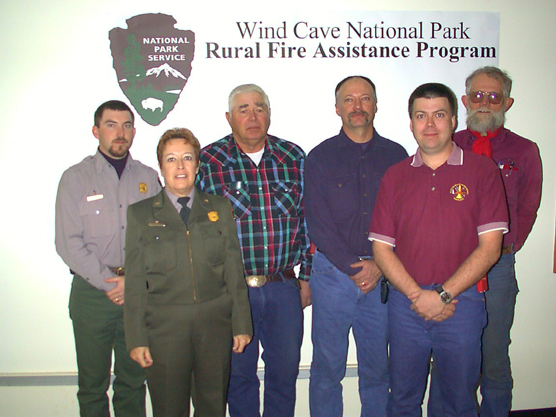 NPS Photo
Date

February 21, 2002
Contact
Tom Farrell, 605/745-1130
"Really valuable to a small community," is how Mark Lamphere, Chief of the Cascade Volunteer Fire Department, termed funding received as part of the Rural Fire Assistance Program, a pilot program designed to enhance wildland fire protection capabilities near Department of the Interior lands. Receiving part of the $13,000 aid, along with Cascade, were fire departments in Custer, Pringle, Buffalo Gap, Custer Highlands, Minnekahta, and Argyle.
These local fire departments used the money to improve their personal protective equipment such as fire resistant clothing and emergency fire shelters, along with purchasing equipment to improve training opportunities. In lean budget years, grants such as this can go a long ways toward improving firefighter safety. Joe Harbach, Chief of the Custer Volunteer Department, stated they already had used their newly purchased LCD projector a couple of hundred hours in the process of training firefighters
The Rural Fire Assistance Program is primarily designed to increase firefighter safety and enhance the fire protection capabilities of rural fire departments. This is achieved by assisting those departments in meeting or exceeding accepted standards of wildland fire qualifications, training, and performance. Emphasis was placed on departments that protect rural communities and play a substantial cooperative role in the protection Federal lands such as Wind Cave National Park.
Congress approved the Rural Fire Assistance Program in response to the record-setting 2000 year wildland fire season and the increasing encroachment of communities into the wildland-urban interface – areas where fires can cause catastrophic damage. This year's grant requests are due back to Wind Cave by April 1. For further information, contact Suppression Crew Supervisor Kevin Merrill at (605) 745-1174. As Custer's Training Officer Joel Behlings said of this program, "It really shows cooperation between agencies."