Director Mainella Goes Caving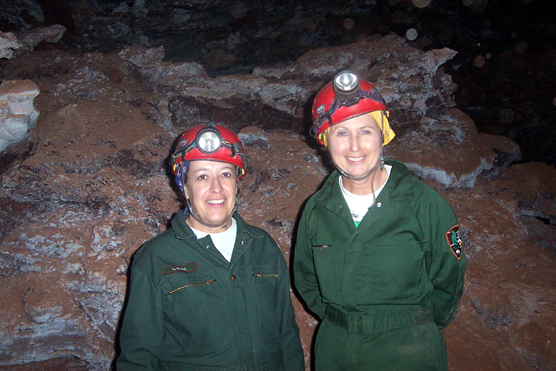 NPS Photo
Date
July 06, 2004

Contact
Tom Farrell, 605-745-1130

For only the fifth time in its history, Wind Cave National Park hosted the Director of the National Park Service. Director Fran P. Mainella, a career professional in park and recreation management with more than 30 years' experience, visited the park and its staff on Thursday, July 1.
During her visit, she attended an all-employee meeting where she talked about visiting national parks as a child and the impact those vacations had on her choice of a career. She said, "The best way to protect our parks for future generations is to get our young people to appreciate them."
Afterwards, she toured the park's surface area, including a hike to the Rankin Ridge Fire Tower and a visit to the park's bison corral. Superintendent Linda L. Stoll said, "This was an excellent opportunity to show the Director what a special place this is and the unique challenges we face managing these world-class surface and subsurface resources.
During her stay, she was able to experience the hospitality and diverse beauty that have helped make the Black Hills and western South Dakota famous."
Director Mainella was also the first such official to participate in the Wild Cave Tour available to visitors through an undeveloped section of Wind Cave. Donning a hard hat, light, and kneepads, Director Mainella followed park ranger Mary Laycock into this undeveloped area. "This was an outstanding way to experience the resource in a way that explorers have for over one hundred years. Being able to visit the cave by crawling and wearing a light on your hard hat gives you a sense of adventure that is an important benefit of visiting National Parks," said Mainella.
The Director's visit was part of a four day, four-park visit to western South Dakota which concluded Saturday night with the Mt. Rushmore fireworks show.