Comments Sought for Exotic Plant Management Plan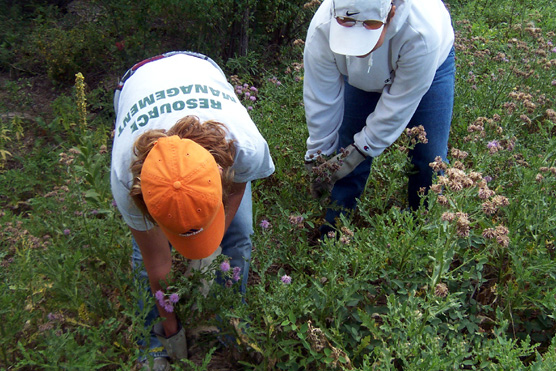 NPS Photo
Date

May 06, 2005
Contacts

Tom Farrell, 605-745-1130
Phyllis Cremonini, 605-745-1131
The National Park Service is seeking comments for an Exotic Plant Management Plan / Environmental Assessment (EPMP/EA) to control exotic (non-native) plants at 13 parks located in the Northern Great Plains area. Park units included in this plan are Agate Fossil Beds National Monument, Devils Tower National Monument, Fort Laramie National Historic Site, Fort Union Trading Post National Historic Site, Jewel Cave National Monument, Knife River Indian Villages National Historic Site, Minuteman Missile National Historic Site, Missouri National Recreational River, Mount Rushmore National Memorial, Niobrara National Scenic River, Scotts Bluff National Monument, Theodore Roosevelt National Park, and Wind Cave National Park.
The intent of this plan is to manage exotic plants to reduce their negative effects on native plant communities and other natural and cultural resources within these areas. While many area park units already have exotic plant control programs, this plan uses an integrated pest management approach and considers the use of a range of treatment options such as cultural, manual/mechanical, biological control, chemical, and prescribed fire. Individual treatments or combinations of these treatments would be implemented as appropriate in each park unit.
There will be an open house to discuss the EPMP/EA. The open house will be held in the Pine Room at the Custer County Library on Tuesday, May 24, from 6 p.m. to 8 p.m.
The EPMP/EA is available at www.northerngreatplains-nps.com, or by calling Mr. Chad Prosser at (701) 623-4730 x3578. The document is also available for review during normal business hours at any of the park units or at the Rapid City, Custer, Wall, or Hot Springs libraries.
Comments must be received by June 15th, 2005. Comments can be mailed to Greystone Environmental Consultants, Inc., Attention: Chris Rutledge, 5231 South Quebec Street, Greenwood Village, Colorado 80111; or faxed to: (303) 721-9298, Attention: Chris Rutledge; or e-mailed to: northerngreatplains@greystone.us. Names and addresses of people who comment become part of the public record. If you wish your name and address withheld, this must be stated prominently at the beginning of your comments.