Seed Study - Psoralidium tenuiflorum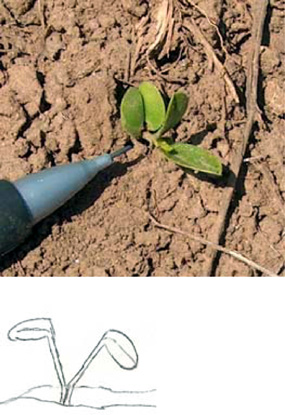 Species: Psoralidium tenuiflorum
Common name: slimflower scurfpea
Seedling identification: Cotyledons are shaped like a golf club with petioles almost on the side of the leaf rather than in the center. All leaves are bright, green, shiny and smooth.
---
Psoralidium tenuiflorum – slimflower scurfpea
Average number of good seeds per gram bulk matter: 39
Average number of good seeds per gram cleaned: n.m.
Commercial estimates of seeds per gram: n.a.
Percent seed: 81
Percent live: 95
Collection dates: August 31; September 1, 9, 22, 25 and 27.
Collection effort: 289 grams in 26 person hours.
Collection notes: Even though this plant is abundant in the park, it's somewhat difficult to collect because not all seeds ripen at once on each plant. The seeds are fairly large and have to be picked one at a time off of the open and airy plants. The seed is widely dispersed on the branches. Most plants don't produce much seed. Also, we later found that a lot of the seed had been gutted by insects (this wasn't obvious when it was picked)
Cleaning notes: Bulk measurement was done in the pods with a few stems, leaves and gutted seeds.