Seed Study - Lithospermum incisum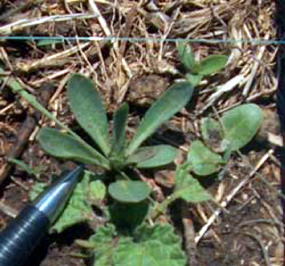 Species: Lithospermum incisum
Common name: narrow leaf gromwell
Seedling identification: Cotyledons are very round. First true leaves are coarsely hairy, narrow, have a prominent midvein and are dark green in color.
---
Lithospermum incisum – narrowleaf gromwell
Average number of good seeds per gram bulk matter: n.m.
Average number of good seeds per gram cleaned: 188
Commercial estimates of seeds per gram: n.a.
Percent seed: n.m.
Percent live: n.m.
Collection dates: July 26, 27, and 29; August 9 and 16.
Collection effort: 1.5 grams in 5 person hours
Collection notes: Collecting this species is time consuming. We also didn't find or collect enough at the proper time to use in the study. Seeds on this plant mature at different times and drop shortly after they mature. Also, it appears to be a favorite of ants, many of the plants that had mature seed were also covered with ants.
Cleaning notes: Clean seed measurement was basically pure seed but a few still had the calyx attached.