Seed Study - Gutierrezia sarothrae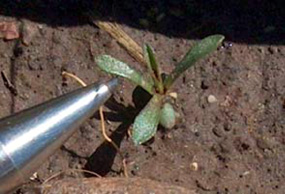 Species: Gutierrezia sarothrae
Common name: broom snakeweed
Seedling identification: Cotyledons and true leaves are long, narrow and dark green and have a turpentine smell when the foliage is crushed. The seedling can easily be confused with Salsola iberica, but the later doesn't have the turpentine smell.
---
Gutierrezia sarothrae – broom snakeweed
Average number of good seeds per gram bulk matter: 245
Average number of good seeds per gram cleaned: 3135
Commercial estimates of seeds per gram: 3527
Percent seed: n.m.
Percent live: n.m.
Collection dates: November 8 and 22
Collection effort: 49 grams in 2 person hours
Collection notes: Easy to collect in large amounts.
Cleaning notes: Bulk measurement included flower heads and some stalks all crushed up. Cleaned seed was hard seeds with a small amount of fluff.