Seed Study - Brickellia eupatorioides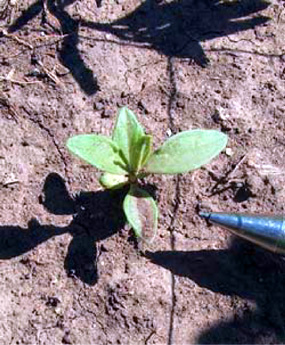 Species: Brickellia eupatorioides (Kuhnia eupatorioides)
Common name: false boneset
Seedling Identification: Light green in color, with opposite, ovate, petioled, minutely toothed leaves with a prominent mid-vein and moderate pubescence.
---
Brickellia eupatorioides – false boneset
Average number of good seeds per gram bulk matter: 132 (60)
Average number of good seeds per gram cleaned: n.m.
Commercial estimates of seeds per gram: 1044 Percent seed: n.m.
Percent live: 25
Collection dates: August 25; October 7 and 11
Collection effort: 41 grams in 5 person hours
Collection notes: Abundant and easy to collect.
Cleaning notes: Bulk matter measurement was as it comes off the plant often with a few involucres.